All the facts behind Jeff Garlin's impressive weight loss journey in 2021. What's his diet plan and fitness routine? Check out Jeff Garlin's before and after pictures.
Born on 5th June 1962, Jeff Garlin is a famous stand-up comedian and actor from the United States. In the ABC sitcom The Goldbergs, he played the role of Murray Goldberg, the father of the titular family.
He also portrayed Marvin on Mad About You (1997-1999), Jeff Greene on HBO's comedy series Curb Your Enthusiasm (2000-present), and Mort Meyers on Fox and Netflix's popular sitcom Arrested Development (2005-2013).
Away from his professional endeavors, Jeff Garlin is currently making rounds for his apparent weight loss. How many pounds did he lose? Let's find out.
Jeff Garlin Underwent Weight Loss for a New Movie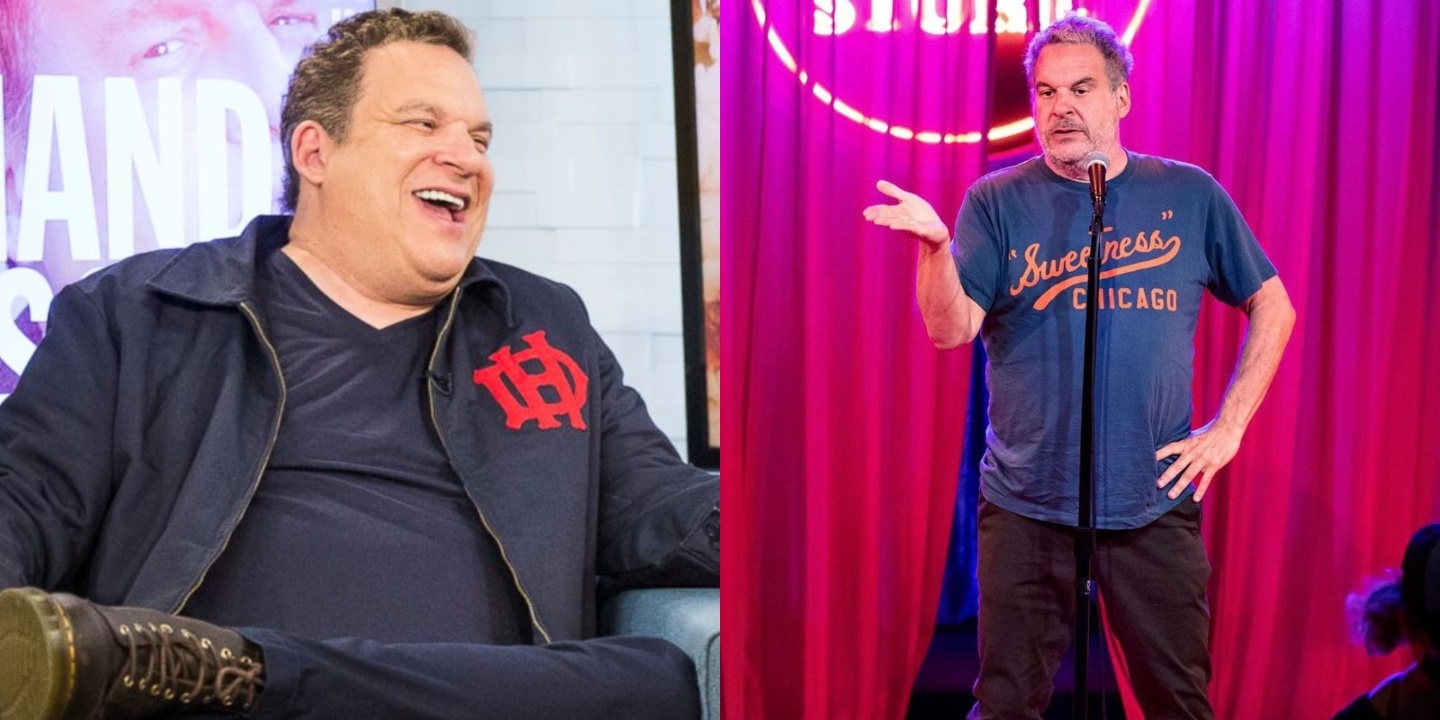 Jeff Garlin before and after weight loss.
Image Source: Weight & Skin
Fans of The Goldbergs may be surprised to see a slimmer Murray as Jeff Garlin has undergone noticeable weight loss.
On Instagram last year, the 59-year-old expressed gratitude to renowned fitness instructor Peter Lee Thomas and tagged Hollywood actress Halle Berry. FYI, Halle Berry's sparring partner is Peter.
Jeff, like Halle, is practicing martial arts with Peter. Take note of the Bruce Lee t-shirt.
You Might Like: Tony Reyes' Weight Loss Journey of Over 150 Pounds is Simply Unbelievable!
When Peter re-shared the above-mentioned picture of him and Garlin, he wrote:
Getting this comedic genius with the heart of a lion action ready. Stay tuned folks.
Lindsay Flores, Halle's fashion stylist, responded to Peter regarding Jeff.
He is my everything.
Garlin, meanwhile, looks to have a new woman pal. He captioned an adorable picture:
I dig this woman. More surprising is that she digs me.
According to Jeff, this swimming shot on Instagram was taken by his mysterious lover.
Garlin is presently filming Damien Chazelle's forthcoming 1920s Hollywood movie Babylon, which stars Brad Pitt, Margot Robbie, Olivia Wilde, Tobey Maguire, Samara Weaving, and Jean Smart, among several other notable names.
Also See: Chinenye Ezeudu's Weight Loss on Sex Education Season 3 is Incredible!
The film is set to be released on 6th January 2023.
Jeff Garlin's Weight Loss Journey Via Pilates
Jeff Garlin, one of the stars of HBO's Curb Your Enthusiasm, was born and raised in Chicago, Illinois, and deems himself a culinary addict.
The 59-year-old explained that food satisfaction is modest, not because ice cream or macaroni and cheese aren't tasty, but because you are doing it to suppress feelings.
That is the real cause, So, there's never enough, he stresses. Garlin has struggled with portion restriction since he was a child, and he discusses it in his memoir.
Also Read: Full Story on Megan Fox's Weight Loss, Diet Plan & Fitness Routine in 2021
In an interview with Elizabeth Vargas, the actor shared his formative bond with food stating:
When I was growing up — my mom's not going to like this, but this is what it was — she would make us pasta, and then put the bowl on the table. We'd have our serving, our normal-sized serving, and then there's a bowl. So, just keep on piling it on and piling it on.
When questioned if his food obsession is the result of a lack of determination, Garlin mentioned how just about everyone believes it's willpower, since it's sort of been taught in us through the years that it's self-control, that it's you, your vulnerability.
The actor added it's not an issue of frailty; it's got nothing to do with it. It's both an addiction and an illness.
When Garlin graduated from high school, he immediately began studying filmmaking at Miami University of Ohio, where he started doing stand-up comedy.
In fact, Garlin, a Second City Theatre veteran, has traveled the country as a stand-up performer.
On a personal front, Jeff was married to his wife Marla for over two decades before divorcing in 2020. The actor had a stroke at the age of 37, while Marla was expecting their second child. It was incredibly tough and that was a pretty rough period for them, Marla recalls.
Do Not Miss: Could Michele Tafoya's Weight Loss be Triggered by Her Persistent Anorexia?
When it comes to fitness, health, and well-being, Garlin's been trying a different approach by doing Pilates. He said,
I don't believe in dieting, and I will never diet. I don't diet. I eat very healthy, and I exercise. I'm trying to be a person who lives healthily both emotionally and physically in the world.
Back in 2010, the then 47-year-old wrote a memoir entitled My Footprint: Carrying the Weight of the World detailing his weight loss experience.
Visit Weight & Skin for more weight loss stories of your favorite celebs.