Learn all the facts behind Jeannie Mai's butt implants plastic surgery procedures through before and after images.
Like several other celebs, Jeannie Mai does not oppose the notion of getting plastic surgery. However, she is yet to admit if she went under the knife.
The Real co-host doesn't want to do squats, and she'd need to do those to maintain her appealing buttocks after allegedly performing plastic surgery. Apparently, she's not ready to devote herself to doing squats every day just for the sake of the ideal backside.
Jeannie Mai is Accused of Getting Butt Implants Plastic Surgery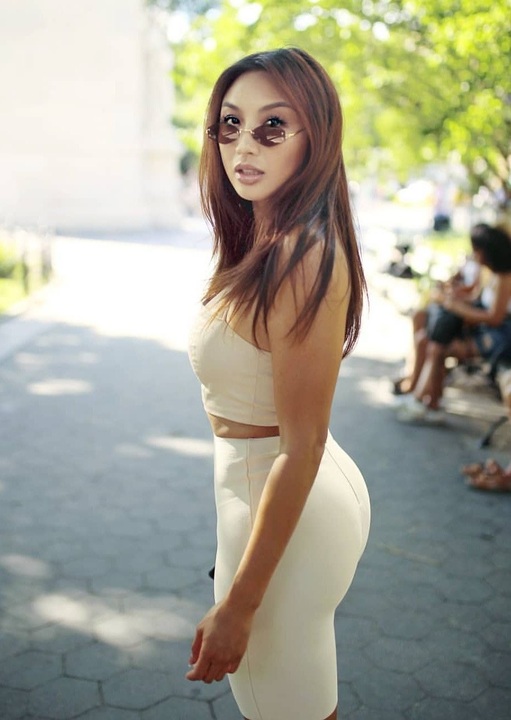 Fans accuse Jeannie Mai of getting butt implants plastic surgery.
Source: Pinterest
Has Jeannie Mai upgraded her body through plastic surgery to appease her boyfriend Jeezy?
Contrasting her before and after pictures upon announcing her engagement with the rapper, some of the crew members of 'The Real' claim the co-host's image started to 'transform' after dating Jeezy.
MTO News reports a couple of members of the staff told them Jeannie's body had begun to "change" when she got in a relationship with Jeezy. Comparing her before and after transformation, one staff member said:
Jeannie is very skinny, even tinier than she looks on tv. And before dating Jeezy, her butt was completely flat. Like a typical Asian, flat.
Noticing that the 41-year-old TV host may have opted for plastic surgery to get butt implants, the crew member added,
Now she has a little bubble on her. It's not giant, because Jeannie is a tiny girl, but she grew a bubble out of nowhere, I think it's fake.
Jeannie is yet to respond to the allegations of butt implants surgery, but she's evidently been confident of her appearance lately.
You Might Like: 'Agents of SHIELD' Star Chloe Bennet's Plastic Surgery is Trending But Is It True?
On 10th August, she showcased her bikini bod in a two-piece yellow swimsuit as she stood in the pool, captioning the post
Some of you have never heard Freek-a-Leek by Petey Pablo and it really shows.
Back in July, she even shared several pictures of her looking hot and seductive, with a cheeky caption:
If it requires pants or a bra it ain't happenin today.
After months of dating speculation, Jeannie and Jeezy announced their relationship in September 2019. They quarantined together in the aftermath of the coronavirus pandemic.
As their love seems to be growing, she hinted that the "All There" hitmaker had made her rethink her opinion about parenting a baby.
Jeannie Mai Underwent Emergency Surgery in November 2020
Jeannie Mai remains optimistic as she progresses from major surgery. The Real co-host underwent the operation after being hospitalized with epiglottitis, which as per Mayo Clinic is:
A potentially life-threatening condition that occurs when the epiglottis — a small cartilage 'lid' that covers your windpipe — swells, blocking the flow of air into your lungs.
Sadly, the illness forced her to quit abruptly from performing on Dancing with the Stars season 29. During the 2nd November episode of DWTS, the host Tyra Banks revealed Mai, 41, had filmed a video for DWTS viewers.
Also See: 'Miss Universe Phillippines 2020' Rabiya Mateo's Plastic Surgery Rumors
Banks, 46, said:
I have some sad news. Jeannie Mai had emergency surgery last night and she's in recovery. She's doing well. However, she's had to withdraw from this competition. And she shared her emotional story from her hospital room.

She did that for you. She really wants you to see that, and you're going to be able to see that a bit later. Now, due to Jeannie dropping out, we will not have a double elimination tonight. But one couple will go home.
Later in the night, Mai shed light about surgery in the clip that had been filmed in the hospital, where she revealed:
I am absolutely devastated that my journey on Dancing with the Stars has to end this way.

I found out that I have a throat abscess, where my tonsils and my throat had gotten so infected that it started permeating to the rest of the areas behind my neck and my ears that I had to get emergency surgery, which is why I'm here now.
Following the surgery, Mai was told "everything went great" though some disturbing news was also reported to her in the medical facility.
A doctor said:
If you had waited one more day, your throat would have closed up.
While Mai was unable to bid farewell to the live spectacle, the series aired a sincere and inspiring video clip in her name.
Also Read: Complete Breakdown of Jared Kushner's Plastic Surgery Procedures
Mai said:
I'm just so thankful I had the experience on Dancing with the Stars. It was hands down one of the best journeys of my life, so thank you so much and I love you guys.
Good Morning America first confirmed Mai had been treated for epiglottitis and compelled to exit from season 29.
Mai then confirmed the news to People:
It saddens me that I will not be able to continue with the competition on DWTS. My doctors discovered a health concern with my throat which requires immediate attention and surgery.
Dancing with the Stars airs every Monday at 8 p.m. ET on ABC.
Visit Weight & Skin for more plastic surgery stories of your favorite celebs.