Grab all the details of Jason Lee's weight loss surgery. The blogger shed an impressive number of pounds. Check out his before and after changes.
Jason Lee is a gossip columnist and radio personality. He's openly gay and biracial, and he's had a difficult childhood being raised in the nursing care system in Stockton, California while his mother struggled with drug abuse.
The media personality is a supporting cast on Love & Hip Hop: Hollywood season 2. In 2015, he founded the Hollywood Unlocked gossip site and served as its chief editor and CEO.
Besides his professional endeavor, he's making rounds for his remarkable weight loss. Did he undergo surgery? Let's find out.
Jason Lee's Weight Loss Surgery is Trending on the Internet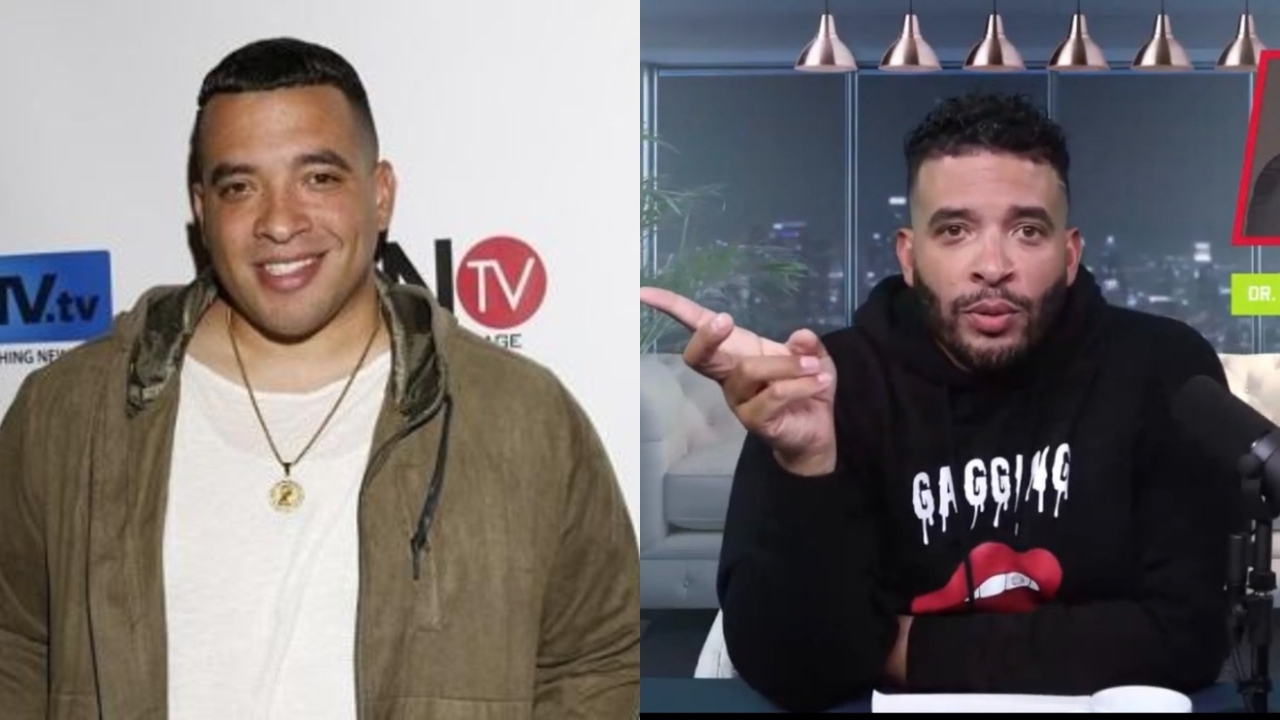 Jason Lee before and after weight loss surgery.
Image Source: Weight & Skin
In July 2020, Jason Lee spoke about how he achieved weight loss and shared his workout regimen during an episode of Hollywood Unlocked [UNCENSORED].
Jason started getting lots of comments on Instagram about how he lost weight, so he wanted to address it in the episode.
In the show, Lee began by saying he felt ashamed of his weight all his life, but since he's got a 'thick skin,' he wasn't fazed too much. He says he's been content with his physique since his younger years.
You Might Like: 'Fatale' Star Michael Ealy's Weight Loss History – The Complete Facts!
But then why did he plan to seek weight loss? The explanation, Jason claims, lies behind some of the health issues he was having.
He dropped 40 pounds before starting Hollywood Unlocked by exercising and eating well. He followed that routine for some time, but after a while, he quit.
He tried to go back to his former regimen numerous times, but something didn't work out, and he didn't know what it was. So, he collaborated with a firm named Gentera Med, which carries out stem cell analysis and micronutrient monitoring.
They're now doing UV therapy, and he was going there for treatment, and receiving different medicines.
Jason Lee conducted micronutrient tests at the firm and found that he was highly lacking in vitamin D. His testosterone level was low, too, and the test revealed his cardiac levels were increasing.
Do Not Miss: 'Chilling Adventures of Sabrina' Star Jaz Sinclair's Weight Loss & Diet Plan – The Untold Truth!
Additionally, his sugar levels were very high, which suggested he was pre-diabetic. Upon such a discovery, Jason started a proper diet and reduced his sugar intake.
Lee stopped drinking alcohol altogether. But despite all these efforts, he struggled to reduce his weight.
Jason Lee's physical trainer, called Omar, told him he could be carrying an infection, which caused his body to swell. Then he started taking multivitamins, but the inflammation continued.
The side effects of the disease were also seen in his life as he started to wake up feeling fatigued and did not want to work out.
Jason Lee's physician then took the Sleep Apnea Test. Sleep Apnea is a disorder in which people can't breathe while they sleep. When he performed a test in which he slept in a lab where his breath and pulse were monitored, the result arrived, and he was shocked.
Also See: 'Southern Charm' Danni Baird's Weight Loss – The Full Story!
During his coma, his breathing stopped for 63 seconds. The outcome was an instant red flag for Jason, and he had to lose weight instantly. That's why he wanted to go into gastric sleeve surgery to achieve drastic weight loss.
Jason Lee's Weight Loss Surgery Came as a Blessing to Him
Jason Lee spoke to his doctor about Sleep Apnea and asked him to do it right away. His doctor approved the request and Jason completed an hour-long gastric sleeve surgery, which removed approximately 80 percent of the stomach.
The operation was a success, and a few weeks following the procedure, his body was in a state of ketosis that burned 30 pounds. It only took him 5 days to shed so many pounds, which was an impressive feat.
Weight loss was not the only positive impact of Jason Lee's operation; his breathing was boosted, and he began feeling much better than before.
Also Read: 'The Bachelor' Contestant Kit Keenan's Weight Loss is Making Rounds on the Internet
In the episode, Jason further emphasized that surgery had an effect not just on his physical health, but also on his mental state.
He said:
This is very much not at all about how I want to look, in terms of why I decided to do it.
Lee added,
It was more about wanting to be alive and long enough for my team and me, and me and my family, to benefit from the fruits of all the labor that I've put into building my media company and my brand.
Jason continued,
Now that I had the surgery, it's the challenge of how hard I want to love myself, how much I want to own the love for myself.
It's fair to say Jason Lee left no shortage of effort to improve his physical and mental well-being.
Jason Lee Left Viacom After Several Public Disputes
Jason Lee is no longer linked with Viacom. The network terminated his contract after a series of public conflicts. Lee had shared his anger at the execs who sought to push him to represent a stereotypical gay Black man.
As a matter of fact, everyone who has followed his professional life is quite aware Lee has worked really hard to stand himself out.
Mr. Hollywood Unlocked credits his positive split from Viacom to Mona Scott-Young. Lee's release from his Viacom deal was approved by the founder of the Love and Hip Hop franchise.
Lee claimed,
It's a small victory in a much larger war. I think that everybody that is at a network that does not promote inclusion through all the ranks and that feels like they are being used as a tool to further create conflict in our culture should do a self-examination.
Lee found out Viacom CBS was striving to censor him to the extent that it was insulting to the product he created. Furthermore, he could not wrap his head around the network's decision, attempting to restrain his artistic freedom.
Check Out: Full Story on 'Cobra Kai' Star Griffin Santopietro's Weight Loss
He resisted,
They actually put language in my contract that said that they could sue me for $2 million if I was to speak negatively about the network.
He spoke vigorously,
Well, listen, I am a whole f–king media company. You want to censor me in order for me to come to your show and denigrate black people? That's crazy! And so, I basically told them, 'no, I'm not coming back to the network under a gag order. I'm going to report what I see, when I see it, how I see it, [and] what I feel about it transparently.'
It's commendable that Lee sticks to his guns and carries on his belief. He's already built a path forward on his journey towards making a positive influence on society. All the best to Jason Lee.
Visit Weight & Skin for more weight loss stories of your favorite celebs.