Grab all the details of FOX News senior meteorologist Janice Dean's weight loss journey inspired by her multiple sclerosis diagnosis. Learn her diet plan and fitness routine along with before and after pictures.
Born on 9th May 1970, Janice Dean is a Canadian weather reporter, TV host, and writer. She features on the Fox News Channel, where she works as a co-presenter and weather correspondent for Fox and Friends.
Lately, Janice Dean is the subject of weight loss speculations on the internet. Is the multiple sclerosis illness the root cause of her slimmer physique? Or did she actively pursue it? Let's find out.
Janice Dean's Weight Loss is Curiosity Amongst Fans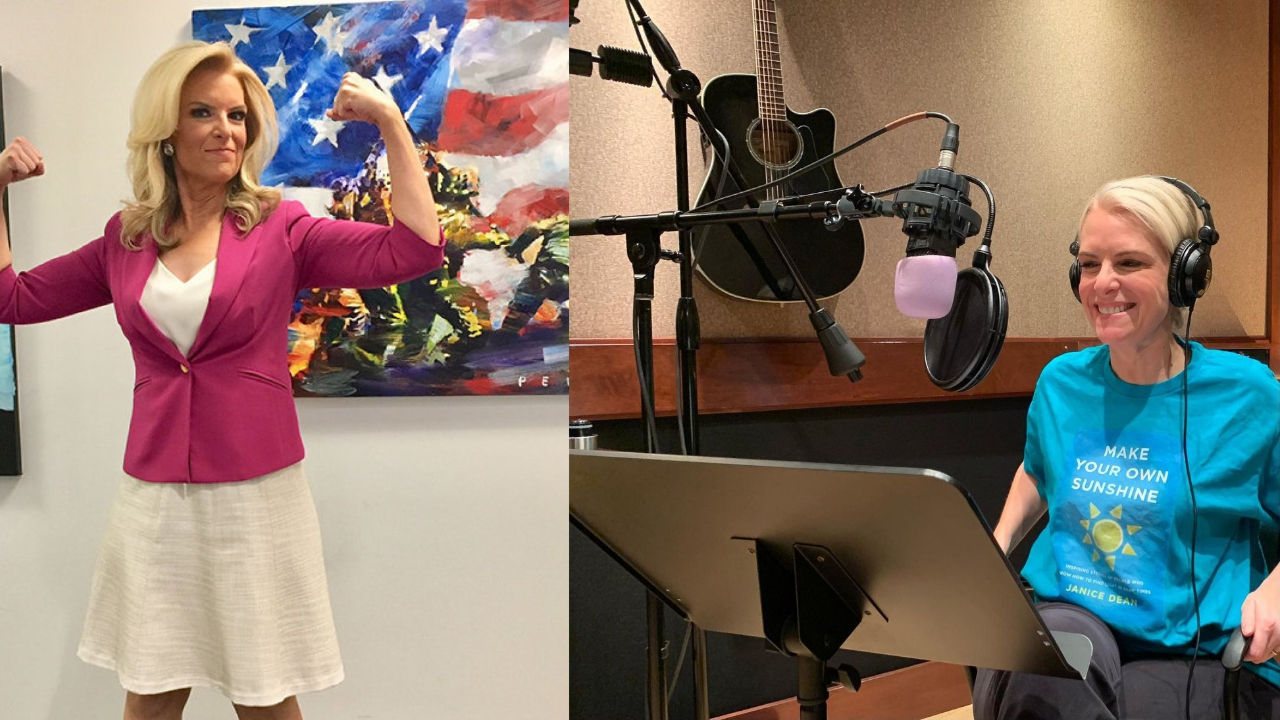 Janice Dean before and after weight loss.
Image Source: Weight & Skin
Janice Dean recently appeared looking much slimmer than the person we're familiar with. Naturally, fans got curious about the reasons for her weight loss.
As most of us know, Dean got diagnosed with multiple sclerosis back in 2005. As per Health Line,
Multiple sclerosis (MS) is a disease in which the immune system attacks the central nervous system. This attack causes the protective sheath around nerves to become damaged and can lead to a range of symptoms.
The article also suggests it is normal for people with MS to put on weight due to their symptoms. It is necessary to strive for, achieve, and sustain a moderate weight.
You Might Like: 'Finding Bigfoot' James Bobo Fay's Weight Loss – All the Facts Here!
Extreme amounts of weight gain or weight loss can exacerbate the symptoms of MS. Additionally, weight fluctuation is quite common among patients.
Meanwhile, on 5th March 2019, the Candian presenter released her book 'Mostly Sunny', where she opened up about her weight issues. She said,
I've had weight issues starting from a very young age. I've been every size from a 12 to a size four, and I've been teased and shamed from the age of 8 to 48. From a kid in school who used to spit at me on the school bus to a very mean, well-known radio host calling me fat and stupid on and off the air.
She added,
I shared these stories truthfully and honestly. Just last year I had a mean online troll that told me my legs looked terrible in skirts and I needed to watch it because a younger, thinner woman could take my place. Bullying and mean comments don't end as we get older, and sometimes we have to take a stand and fight back to set an example for others.
Janice is definitely someone who is proud of her body, but she most likely strived to undergo weight loss to tackle her health issues.
For multiple sclerosis, doctors tend to recommend nutrient-rich foods along with weight loss exercise. However, it's not "dieting" per se, as there is particularly no clear eating schedule for people with MS.
Also See: Amber Scholl's Weight Loss – The Truth About Her Body!
Some experts prescribe that people with MS adopt a typically low-fat, high-fiber diet. Maintaining a moderate and manageable calorie deficit helps shed bodyweight steadily and comfortably.
Some studies indicate that particular diets, including ketogenic, paleo, and fasting-mimicking, can relieve some of the symptoms in patients with MS.
Janice Dean Opened Up About Her Reaction to MS Diagnosis in New Book
Meteorologist Janice Dean is renowned for her upbeat demeanor on Fox and Friends, but in her latest book Mostly Sunny, she opened up about the struggles she's endured, most notably the "devastating" diagnosis of multiple sclerosis in 2005.
Speaking exclusively about her book with PEOPLE, Dean said:
When I was first diagnosed I looked for books that were hopeful about this illness, and I could not find very many of them.
She added,
So I wanted this book to be sort of a love letter to people who have a chronic illness, or have MS, and say, 'You know what? It can be hopeful. There is hope.'
Besides sharing her road to wellbeing, Dean shed light on her weight insecurities as a teen, getting sexually abused during her career, and finding love with her partner, Sean Newman, a New York City firefighter.
Also Read: Elle Simone Scott's Weight Loss Surgery Following Ovarian Cancer Diagnosis
While Dean calls herself an optimist, she is transparent about the many steps—and the counseling sessions—that have been taken to make peace with some of her hardships.
She explains in depth what it felt like to hear she had multiple sclerosis, including early symptoms of severe fatigue.
Janice explained,
My first big exacerbation or flare-up [happened after] I had gone through the 2005 hurricane season. That was the year of Katrina. I was working a lot of hours. I was tired. Really, abnormally tired. I felt like I could sleep for days. At points, I couldn't even get out of bed and I didn't know what was wrong with me.
Then one day she got up and couldn't feel the lower part of her feet, and she had a tingly feeling on her thighs, fingertips, and toes. Since consulting with a number of specialists and going through a variety of examinations, she discovered that she had MS.
Dean explained,
I believe I was lucky because some people can go through minor exacerbations and [don't go] through with some of the tests, the battery of tests that I went through.
She continued,
I was reading recently about Selma Blair. She said that she kept getting misdiagnosed. And that's so sad to me… I was thankfully able to go to doctors who did the battery of tests that I needed to go through, to give me an early diagnosis. And that's why I think now 15 years later, I'm doing okay because I've been on therapies for this.
While Janice Dean still needs a lot of sleep (as a matter of fact, she goes to bed before her sons, Matthew and Theodore) and has to stay away from heat (which is basically her "kryptonite"), she can go for a prolonged period of time avoiding "flare-ups."
Do Not Miss: Salma Hayek's Weight Loss Journey – The Full Story!
However, handling the condition wasn't the only obstacle Dean had to face following her diagnosis. She was also anxious that she'd possibly be terminated from her job when word of her illness gets out.
She said,
Up until that moment, [my career] was sort of number one in my life. I [got] a lot of self-esteem from climbing a ladder, going from Ottawa, Canada to New York City, and working for Fox.
Janice agrees that there was a period of time when she didn't carry any hope.
I was very depressed and feeling bad about myself, and saw a wheelchair in my future.
Fortunately, her colleague Neil Cavuto, who also has MS, was informative and encouraging.
But 12 months following her diagnosis, Janice suffered another low when her supervisor turned down her news piece pitch on MS. But she didn't let that deter her— rather she headed to the other manager who finally accepted the pitch.
She said,
My lesson is, if you really feel strongly about something and you think it's the right thing to do, then you need to take risks. Follow your moral compass.
Janice Dean hopes that she can encourage those who might be looking for assistance by sharing her experience.
Check Out: Comedian Michelle Collins' Weight Loss – What's Her Diet Plan & Fitness Routine?
Visit Weight & Skin for more weight loss stories of your favorite celebs.