Grab all the details of Griffin Santopietro's visible weight loss in Cobra Kai season 3. The 14-year-old actor is a cast member in the Netflix show, playing the role of Anthony LaRusso.
Griffin Santopietro is an actor best known for portraying the role of Anthony LaRusso, the son of Daniel and Amanda LaRusso on the martial arts comedy-drama Cobra Kai.
Griffin is a supporting cast in all three seasons of the show. He's uninterested in karate, unlike his dad who coaches the sport. However, his days of being an obsessive video-gamer could be over soon.
Talking to Popternative, he suggested the character of Anthony LaRusso could receive more screen time in the future.
Away from the professional scene, the actor is the subject of weight loss on the internet lately. Without further ado, let's grab the details.
Griffin Santopietro's Weight Loss – How Many Pounds Did the Anthony Actor on Cobra Kai Lose?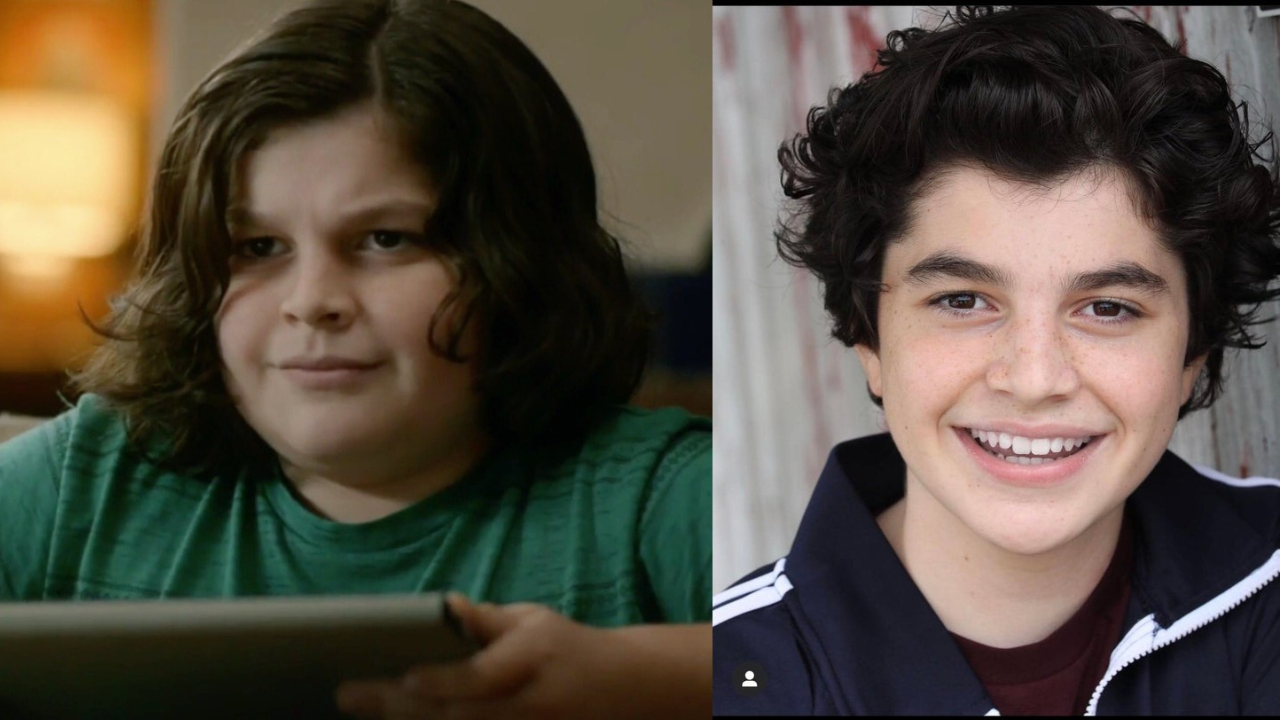 Cobra Kai's Anthony actor Griffin Santopietro before and after weight loss.
Image Source: Weight & Skin
The 2021 image of Griffin Santopietro is wildly different from the child actor featured in the Cobra Kai series 1. In the last few years, Griffin has undergone weight loss, which the audiences of the show have noted.
While his scenes in season 3 could be vanishingly rare, fans have said Anthony looks barely recognizable in the Netflix series. Moreover, some said something about him had changed, from his gaze to his deeper voice!
While Griffin has more of a bit part in the Cobra Kai show right now, it is quite possible his character will be provided more camera time in upcoming seasons.
You Might Like: 'Ma Rainey' Viola Davis' Amazing Weight Loss – The Complete Story!
YouTube viewers seem to think Griffin's weight loss will become a part of the storyline in which Anthony LaRusso joins his father in learning karate.
In an interview with Popternative, Griffin said:
I'd definitely say that there's going to be growth all around. Even like stuff I don't know about, I just trust that the writers know what they're doing and have a clear vision.
We gotta wait and see if the actor addresses the change in his physique in the coming days.
Also See: Full Story on 'Family by the Ton' Casey King's Weight Loss!
Griffin Santopietro is Massively Grown Up in Cobra Kai Season 3
Expectations for the Cobra Kai season 3 are pretty big. The show, which is on Netflix after originally airing on YouTube Premium, is set more than 30 years after The Karate Kid's exploits.
Daniel LaRusso (Ralph Macchio) and Johnny Lawrence (William Zabka) both can't get away from what transpired at the All Valley Karate Tournament in 1984.
This means they all get accustomed in their own respective dojos to teach a new breed of martial artists how to combat and be a good person. That was the intention, at least.
Season 3 aims to have an even bigger development of these characters, given how the series will honor the memory of Mr. Miyagi (Pat Morita) by making Daniel move back to his home in Okinawa, Japan.
Also Read: Myesha Boulton aka Mya Curvz Before Weight Loss – Check Out Her Transition!
Some major changes are in place for everyone, including Daniel's son, Anthony (Griffin Santopietro), who was clearly absent for much of season 2.
Although it's not sure how pivotal Anthony's position will be in season 3, Daniel's son has to turn up sooner or later, and when audiences first see him, they will be pretty shocked.
Needless to say, Anthony LaRusso shares nothing in common with his karate-loving dad.
He'd rather stay at home all day and play computer games, and with little character growth, it's plain to see why his character has been absent for most of season 2. However, it could all alter in the third season.
A new Reddit post states the actor who portrays Anthony, Griffin Santopietro, has changed tremendously between seasons.
It seems like his puberty is kicking off, and the little chubby child is no longer so tubby. This suggests Anthony could be involved in karate after all.
Now that he's in fine shape, it'd be easy to see him entering one of the dojos and taking after his dad.
Do Not Miss: 'Southern Charm' Kathryn Dennis' Weight Loss, Diet Plan & Fitness Routine
Fans were quick to show their support in the comments section while some tried to make sense of the whole thing.
One fan wrote,
Fast in the show side of things, but only normal by puberty standards.

The first season was recorded in 2017, the second in 2018, the third in 2019. In season 4, we're going to see a big jump in the actors appearances since it's filming in 2021. ?
The second noted,
He lost the chubby cheeks
The third was more concerned about the storyline:
They really are gonna need a time jump to explain these kids change in appearance from growth spurts.
Another joked,
Funny, now he actually looks like he could be Daniel and Amanda's kid.
Irrespective of the physical transformation and the apparent weight loss, we're sure there will be a valid reason for why Anthony looks entirely different in the Netflix show.
Cobra Kai season 3 premieres on Netflix on 1st January 2021.
Check Out: Marc Bertrand's Weight Loss – The Complete Details
Visit Weight & Skin for more weight loss stories of your favorite celebs.