Grichka Bogdanoff, the well-known French TV personality, is immensely famous for denying his plastic surgery. While his implants and incisions were quite discernible, why did he lie about it? Plus, how did Grichka Bogdanoff look when he was young?
Eminently well-known for being the television presenter in the 1970s, Grichka Bogdanoff is a French native. During his mid-20s, Bogdanoff attracted a plethora of people with his beguiling grin and exceptional physical appearance. While the French man had enough attractive facial features, he wasn't satisfied, and that's when he began his addiction to plastic surgery procedures.
Although Grichka is no more by our side, people still reminisce about him for his denial of getting cosmetic surgeries. While his face was literally the greatest evidence to substantiate his incisions and implants, he never admitted to getting one.
Even today, people never avoid giving a second thought before getting implants, surgeries, or even a small lip filler, as Grichka Bogdanoff had to live with a distorted life just because his surgeon did him bad.
Grichka Bogdanoff's Plastic Surgery: What's the Tea?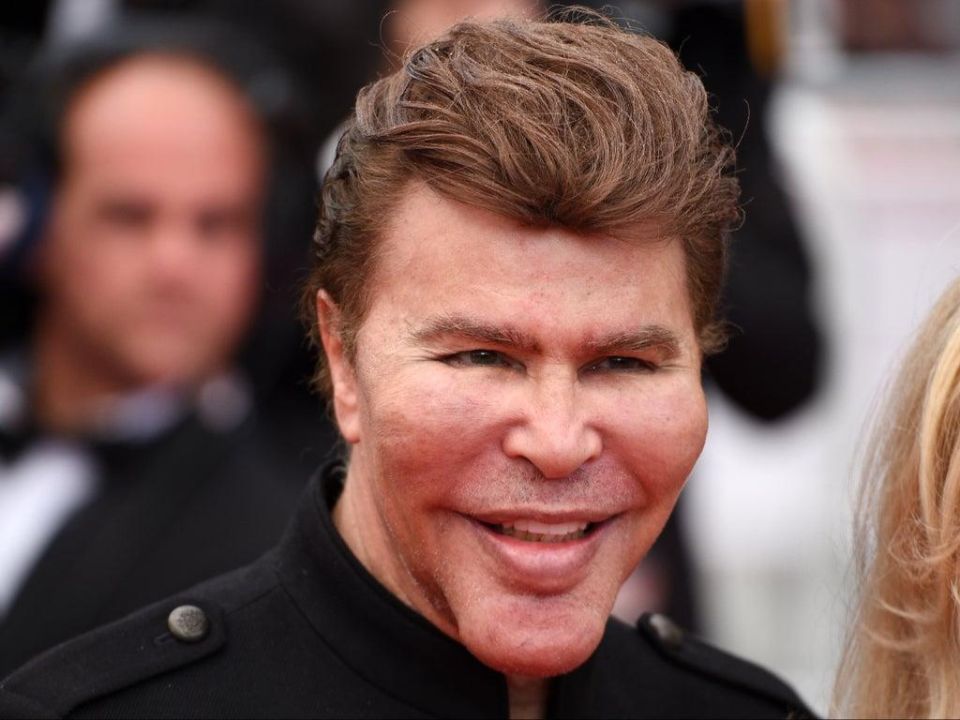 Grichka Bogdanoff's plastic surgery includes cheek implants, Botox injections, and lip fillers.
Image Source: Pinterest
Born on 29th August 1949, Grichka Bogdanoff was a prominent television presenter, producer, and wrote numerous scientific essays mainly in the fields of science fiction, popular science, and cosmology.
Moreover, a controversy surrounded him when he and his twin brother wrote nonsensible advanced physics papers which were published in eminent scientific journals.
You Might Like: Kenny Rogers' Plastic Surgery: Before and After Botched Transformation!
Apart from these, Bogdanoff has played some movies such as Temps X, Le Fruit de léspoir, Rayons X, and many more. Hence, his involvement in these many fields definitely paid him well.
More than any of his deeds in his life, Grichka Bogdanoff is well-renowned in faking about his plastic surgery, in particular implants. His face was distorted, when we say distorted, it literally means that from being the handsome guy, Bogdanoff changed to a man with weird facial features.
Having a pointed chin, his face was symmetrical, but that didn't enhance his appearance rather his face was comparable to the English alphabet, V.
Not only did his face shape alter but his cheeks looked too jolly. Sunken eyes with no eyelid shape, his cheeks bounced off every time Bogdanoff took a step.
Looking at his face, the main concern for everyone was how did he live with those bouncy cheeks? Didn't it hurt him? Well, maybe it didn't or it did. Anyway, the French native at least didn't have to contour his cheekbones, as the edge of the cheeks was too visible.
Also, Bogdanoff did get a botox to expunge the unnecessary foldings of his skin; botox isn't necessarily plastic surgery rather an injection that is injected with the sole purpose of avoiding wrinkles. Furthermore, Grichka wasn't randomly blessed with the perfect lips that everyone wished for, rather it's a lip filler.
While his lip section is the only good thing that his surgeon did, that filler didn't suit his face, thus giving him an unusual physical appearance. Although Bogdanoff wanted to look as attractive as he was in the past, his dissatisfaction regarding his face didn't treat him well. However, he isn't to be blamed for how he looked, rather the surgeon should have taken the necessary precautions.
Also See: Gloria Grahame's Plastic Surgery: Nose Job, Fillers, Botox & More!
Many people were perplexed on why didn't French native, Grichka Bogdanoff, admitted to getting plastic surgery along with liposuction? Well, our society doesn't take cosmetic surgery as a good thing, and especially when it comes to males getting plastic surgery, they wouldn't stop throwing unwanted tantrums.
Therefore, probably with the fear of getting judged by society, Bogdanoff's inner voice may have stopped him from revealing his implants. However, his implants and surgery acted as an eye-opener to everyone in selecting the surgeon nicely.
How Did Grichka Bogdanoff Die?
Leaving everyone in this world, Grichka Bogdanoff took his last breath on 28th December 2021, surrounded by his family and friends. His body did try to fight against the deadly COVID-19, but the universe wasn't in his favor, and thus, ultimately, his immune system gave up.
Maybe, he would have still been living presently, only if he had listened to the World Health Organization and got vaccinated. After his death, it has been disclosed that Grichka Bogdanoff was against vaccination and had a belief that vaccines would do no good to the human body. To that point, with his own stupid thinking, Grickha lost his life.
Also Read: Moneybagg Yo's Plastic Surgery: Did the Rapper Go Under the Knife?
While everyone was mourning his death, just after 6 days, his identical twin brother, Igor went alongside his brother leaving everyone behind. Like his identical twin, Grichka, Igor was also totally against getting vaccinated, and his body couldn't compete with the virus, leading him to take him to the other side of the world.
Only if these twin brothers took health precautions and listened to the health workers, they would have been still living the beautiful life.
Visit Weight & Skin for more plastic surgery stories of your favorite celebs.