There are numerous achievements Graham Elliot could be proud of throughout his career. One of them is how he has successfully achieved around 150 pounds of weight loss in recent years.
Let's grab all the info about how this American chef, restaurateur, and reality TV star, Graham Elliot shed such incredible pounds.
Graham Elliot's Weight Loss Journey – How Did He Achieve It?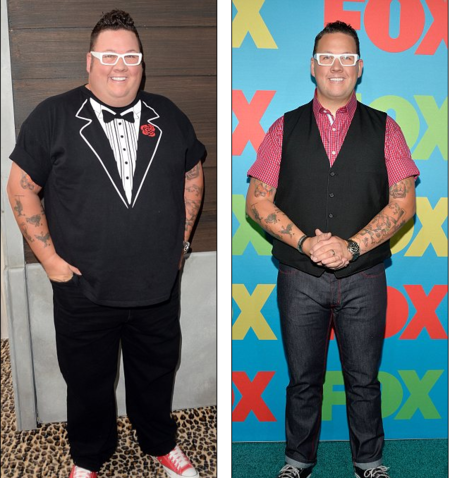 Graham Elliot before and after weight loss.
Source: Pinterest
Graham Elliot proceeded on a weight loss quest after going for a sleeve gastrectomy in 2013 because of his ever-rising weight, hitting nearly 400 pounds at the peak.
The weight loss surgery eliminates about 80% of the patient's stomach and produces a small, sleeve-shaped belly the size of a banana. By doing so, Elliot can now devour only a limited amount of food, assisting him to sustain his body weight.
The procedure, however, was not the final solution to the weight issue. Elliot was aware of this, and he knew he had to make some serious lifestyle changes to ensure the positive result of the surgery. He implemented a healthy eating schedule and even participated in rigorous physical exercises to promote successful weight loss.
You Might Like: Real Truth About American Journalist Tucker Carlson's Weight Loss Speculations
Nine months after completing sleeve gastrectomy at the University of Chicago Medical Center, he dropped a remarkable 147 pounds. Yet he did not foresee such a massive change in a brief amount of time.
"I thought it would take two or three years to do this," the chef told People who dropped to 253 pounds. "I thought I'd lose 60 or 70 pounds the first year."
This outcome was attributable to Elliot's daily involvement in rigorous workouts. He used to run 5 miles a day, which is one of the key contributing factors to his weight loss.
What is Graham Elliot's Diet?
The chef's weight loss surgery allowed him to eat food products solely for energy. He made wise decisions regarding his intake, emphasizing on consuming nutritious items.
"I now look at food as fuel and focus on my protein intake," Graham Elliot told Daily Mail. "I'm in love with 'pure' flavors, things that are natural and delicious, minimally fussed with, that showcase the season. I combine that with portion control."
Also See: Full Story on American Author Douglas Brinkley's Weight Loss Speculations
Graham Elliot's food involves consuming nutritious beef, berries, and vegetables. He enjoys eating chicken and salmon dinners with salads or veggies. He absolutely refuses all the pizza, pastries, fizzy drinks and alcohol, and maintains that he holds his food cravings under check.
Rather than consuming processed and junk food products, he insisted on healthy organic food items. This way, he continued to shed some huge pounds of body fat, and now he is leading a far healthier lifestyle.
Who is Graham Elliot?
Graham Elliot is a well-known cook, restaurateur and reality TV host. He is better known as a frequent competitor on the shows 'Iron Chef' and 'Top Chef Masters,' where his reality TV career started. His other noteworthy TV projects include his role as a judge for the first six seasons of 'MasterChef' and the spin-off show, 'MasterChef Junior.'
Graham Elliot first received acclaim as an accomplished restaurateur for being a three-time James Beard Award recipient. In addition, he was also the first chef in the United States to earn four stars from a prominent outlet (Chicago Tribune, Chicago Sun-Times).
Visit Weight & Skin for more weight loss stories of your favorite celebs.