Everything you need to know about Gia Giudice's plastic surgery, most notably her brand new nose job.
The cat is finally out of the bag! Gia Giudice, the daughter of Teresa Giudice, announced she had undergone a rhinoplasty operation.
The 19-year-old revealed the news of her plastic surgery via Instagram, sharing a picture of herself alongside her mother.
Gia Giudice's Plastic Surgery Operations – Recently Revealed Nose Job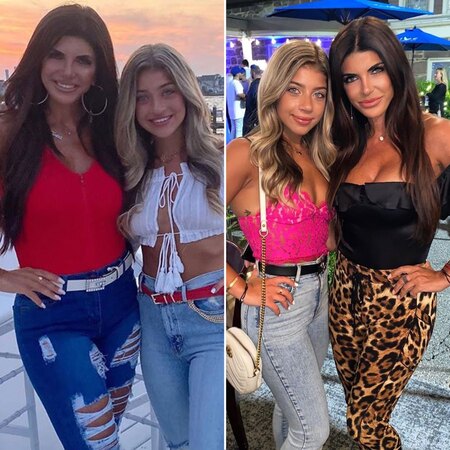 Gia Giudice before and after her nose job plastic surgery.
Source: US Magazine
Gia Giudice is oozing more confidence than ever before.
Gia, 19, announced on Instagram she had just undergone plastic surgery on her nose, a trait that made her feel insecure for some time.
Sharing a snapshot of herself with mother Teresa Giudice, Gia posted on Instagram, "yes I got a nose job. yes, I'm swollen."
"[T]hank you so much @drtobiasnyc I'm absolutely in love with it?" she continued. "I am an adult now, this has been an insecurity of mine for a while and I've never been happier and so comfortable in my own skin!!"
You Might Like: RHONJ Star Melissa Gorga Admitted to Plastic Surgery – Breast Implants and Nose Job
Teresa posted the same picture, and although she did not discuss her daughter's latest operation, she said, "My first born I adore ? you ❤ ️."
Earlier this month, Gia Giudice posted a variety of pictures of her family's Fourth of July party, including photographs of her mother and sisters Gabriella, 16, Milan, 15, and Audriana, 11. Joe Gorga, Teresa's brother, was also at the party, which seemed to take place in the waterside room.
"[A]lways a good time? happy fourth of july❤️?," Gia wrote in the caption for the holiday photos.
Absent from the gathering was the family leader Joe Giudice, who has been staying in Rome following his extradition to Italy last year.
Last month, Gia posted a sweet Father's Day tribute in memory of her dad, uncle, and grandfather, Giacinto Gorga, who passed away in April.
Also See: Real Truth About 'Days of our Lives' Star Kristian Alfonso's Plastic Surgery Speculations
"happy Father's Day to the most amazing people in my life and souls who keep me going every single day!" Gia Giudice wrote in the emotional post. "Dad thank you for showing me how to show strength, Nonno thank you for always pushing me to be my best self, and Zio Joe thank you for being there when I always need you."
"Nonno today and everyday I speak to you and thank you for everything you taught me, you are one and a million, and I miss you so much everyday," Gia added. "Thank you all so much for making me the person I am today. I love you❤️ Nonno I'm celebrating you today and everyday."
Gia Giudice Debuted Stunning Lighter Hair Color for Summer
A new season ensures a fresh feel in the household of Giudice. First, Teresa Giudice introduced a fresh hairstyle with a glossy chocolate brown shade and sleek extensions from Paris. This was followed by her daughter, Gia Giudice, also redesigning her summertime style.
Also Read: Real Truth About Reality Star Courtney Waldrop's Plastic Surgery Speculations
The Real Housewives of New Jersey's daughter recently made a visit to the beauty stylist Lucia Casazza (who also changed mother Teresa's locks) for a chic fashion makeover.
Like Teresa, Gia's beauty redesign included high-end brands. Casazza transformed Gia's blonde mane with Goldwell U.S. hair dye and a mixture of lighter and darker blonde hues.
She coated Gia's hair with a colored glaze and fitted her to a combination of different colors of Remi Cachet Hair Extensions, which were shipped straight from the UK. Gia's last look: a chic and voluminous sandy blonde 'do, suitable for the season.
Do Not Miss: Did the Former 'Glee' Actress Naya Rivera Have Plastic Surgery?
"One of my Blonde Treasures," Casazza said in an Instagram post, announcing Gia's latest style.
It seems that Gia Giudice is more than happy with her new 'do. "No one does it like you do," she said to Casazza in the Instagram post.
The RHONJ Star Moved into Her New College Apartment
Gia Giudice is returning to school. The Rutgers University student — who marked her college graduation with a luxurious pool party last summer — is excited to begin her sophomore year.
However, Gia had to contend with a particularly uncomfortable sofa before she finished with her course load. Step forward, Uncle Joey.
Recommended: Real Truth About American Actress Nicola Peltz's Plastic Surgery Speculations
Through her Instagram Stories, Teresa Giudice's youngest daughter posted a photo of Joe Gorga holding a white sofa on a house stoop.
"Look at you," she said with approval while noting in her caption: "Moving into my apartment!!!" She added: "[Joey Gorga] best uncle," with two red hearts to display her appreciation.
Please note: this beautiful gig is Joey's return commitment. Last year, the Real Housewives of New Jersey's uncle helped Gia Giudice settle in in her freshman's apartment, celebrating the day with a heart-wrapping Instagram message.
Check Out: Kenny Rogers Plastic Surgery – Drug Addition, Four Failed Marriage, Death!
"I moved Gia into her dorm room at Rutgers today," he wrote. "I can't believe you're in college, it felt like yesterday that I was rocking you to sleep."
Visit Weight & Skin for more plastic surgery stories of your favorite celebs.