Faith Hill's plastic surgery allegations gathered pace following her appearance in the People Magazine cover in 2021. She admits to using Botox. How does Faith Hill look now and with no makeup? Have a look at her before and after pictures.
One of the most successful country music artists of all time, there might be very less people who are unknown to Faith Hill's music.
Having sold more than 40 million albums worldwide, Faith Hill is recognized as an American singer and record producer. People have been more curious about Faith Hill, this time not because of her songs but her plastic surgery.
What sparked the rumors? Faith Hill's recent People magazine cover. Twitter blasted with comments of how Faith Hill doesn't look like herself thus fueling the speculations of her getting plastic surgery.
So, here's everything we know about Faith Hill's cosmetic endeavors.
Faith Hill's Plastic Surgery: Is it the Edits or Did She Really Get Some Procedures Done?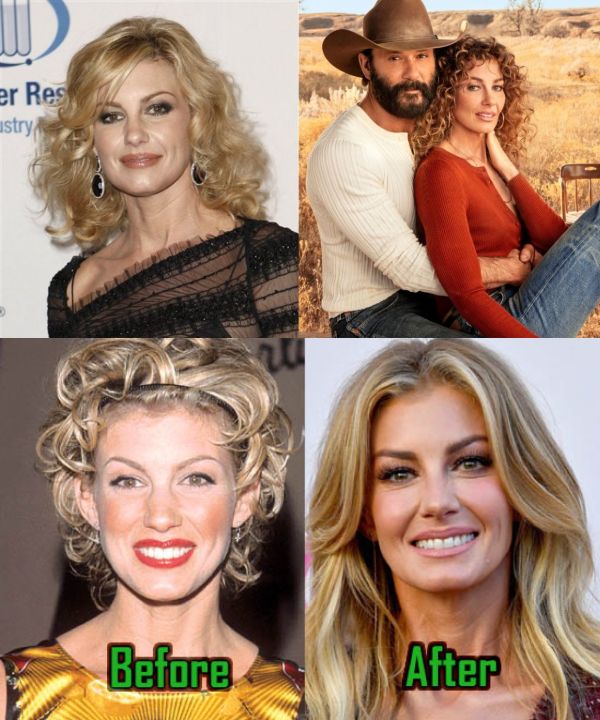 Faith Hill before and after alleged plastic surgery.
Image Source: Weight & Skin
The release of Faith Hill's picture on the cover of People magazine blew up social media with rumors and speculations of the country singer getting plastic surgery.
Appearing alongside her husband Tim McGraw, fans quoted "Faith Hill looks unrecognizable." Flaunting her golden locks and cheek-to-cheek grin alongside her husband, the county artist's highly edited picture really raised many questions surrounding her getting plastic surgery.
You Might Like: Meagan Good's Plastic Surgery: Did She Perform Eyebrows Transplant?
Over the years many have been speculating if the singer really went under the blades to enhance her beauty. The debate on Faith's looks flamed up with the single cover photo on the magazine.
On close inspection, the singer actually does look different than her other pictures. If she really got some procedures done then what could it be and did she only do it for the magazine?
Well, in actual Faith Hill hasn't performed any procedures. The picture is just highly edited making Hill look like she did something to her face.
Even when comparing Faith's before and after pictures from back in the days and now, there are no significant facial feature changes. However, Faith Hill admitted to getting botox injections.
Addressing rumors surrounding her alleged plastic surgery, Faith said in an interview with New Beauty Magazine:
I honestly don't pay attention to it. If I did, my girls would notice and I don't want that. It's not a message I want them to have. The secret is being confident—with your age, with yourself.
The secret to her youthful look; Her realistic take on beauty and anti-aging game. The singer also said, "I'm OK with having lines. I'm almost 50, I want people to know I've smiled a lot." Thus, showing how she is comfortable in her skin and doesn't see any requirement of surgeries or fixing.
Also See: Simi Haze's Plastic Surgery: How Did They Look Before Nose Job?
Faith Hill hasn't had plastic surgery and other than Botox for her aging and changed hairstyle as per Page Six. The transformed look on the cover of the magazine is due to high photoshop and editing. The singer is a natural beauty still slaying at the age of 54.
Faith Hill and Husband Tim McGraw are Supporting Each Other Through it All!
In a very recent and exclusive interview of Faith Hill and her husband, Tim McGraw with People magazine, the pair shared how they have been feeling lonely ever since their youngest daughter Audrey left home for college. They also revealed the tragedy of having to adjust to their kinda empty house without their children.
The couple's eldest daughter Gracie and second elder daughter Magie too are away from home to college and have moved to the states too. The departure of their youngest one Amber,  left the parents in despair having to deal with loneliness without their children.
Also Read: Kataluna Enriquez Before Plastic Surgery: Check Out Miss Nevada 2021 Before and After Pictures!
Tim McGraw says, "I miss the afternoons because Faith would always make sure something was cooking when they would come home from school."
He adds on, "I miss them coming in and smelling what mom's cooking and being excited about having dinner. I miss the energy around. There were times when we had 15 teenage girls in our house talking about boys and life and everything going on. We're still a really close family; we talk all the time. But it's difficult when your kids leave. All of a sudden they don't need you as much anymore. And I think it's probably more difficult for Mom."
A very responsible mother, Faith Hill prioritized her children and almost jeopardized her career for the sake of being a good parent.
She says, "It's the thing I've spent the better part of the last 10, 15 years doing," She then adds on, "I'm not going to lie — it's very hard to let go. Our job is to give them roots and wings. Sometimes that's an easier thing to say than others."
This is one of the common issues every parent has to go through. The emptiness left behind by the absence of their children.
Do Not Miss: Wesley Snipes' Plastic Surgery: Did the True Story Netflix Star Make Cosmetic Changes?
Since the topic is quite relatable, the article is being immensely read and fans have been conveying their love, affection, and care to the couple.
Visit Weight & Skin for more plastic surgery stories of your favorite celebs.