Everything you need to know about Emily Blunt's plastic surgery efforts, most notably Botox injections and lip fillers. Check out her before and after transformation.
Best known for her incredible works in Devil Wears Prada, The Girl on the Train, A Quiet Place, and Into the Woods, Emily Blunt is a household name. Drama, comedy, thriller, you name it! The immensely talented British actress has marked her name in the hall of fame.
With evergrowing fame and success, the actress's looks too changed over the years. And people do what they are best at doing, make speculations!
Many believe that the Mary Poppins actress underwent surgery to look as gorgeous as ever. Still stunning in her late 30s nearing her 40s, it's obvious for the talk of plastic surgery to go around.
Did Emily Blunt Really Get Plastic Surgery or Are the Rumors Just Flying Around?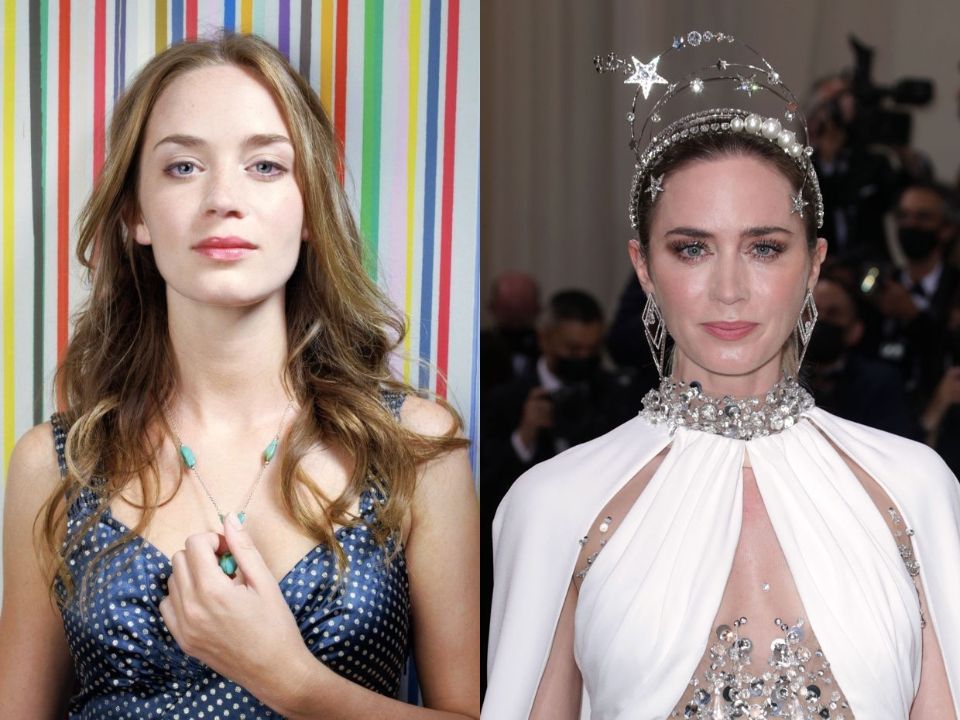 Emily Blunt before and after alleged plastic surgery.
Image Source: Weight & Skin
Comparing young Emily Blunt to the present, not many differences in her features can be seen, except the fact that she is effortlessly beautiful today too. Many believe that she has gone under the knives for plastic surgery to alter some of her features and look stunning in her 40s.
Rhinoplasty is one of the most common procedures done by celebrities. Since smaller noses with a straight bridge are most preferred, many get it done to fit the aesthetics.
You Might Like: Belinda Carlisle's Plastic Surgery: What's the Tea?
In the case of Emily Blunt, comparing her nose when she just entered Hollywood to now, there are no significant changes that might hint at plastic surgery. Her nose looks pretty much the same.
Appearing more streamlined in some pictures, it could be makeup and highlights. But as far as we could find, Emily Blunt hasn't had any procedures done to her nose.
Breast implants are pretty common in female celebrities too. If we were to compare Emily Blunt's breasts over the years, no significant difference can be seen in them too. Giving birth to her children has changed her breasts to some extent but nevertheless, they don't look artificial.
Speculated to have gotten chin lift too, we deeply investigated if she got it done too. Yet, no significant changes were seen in her younger and present pictures.
Nonetheless, transfiguring with time, Emily Blunt has gotten botox and lip fillers. Her lips look fuller and plumper than before and her gummy smile can be seen hidden too.
Her face has no fine lines and wrinkles, and they look pretty stretched too. These confirm the use of botox and filler injections.
These types of alterations are pretty common these days and don't really fall under plastic surgery rather are called cosmetic enhancements.
Also See: Madonna's Plastic Surgery Hands: The Real Truth!
The rumors of Emily Blunt's plastic surgery have been going around for a while though no solid evidence of her getting one is found. Unbothered by all this talk, the A Quiet Place actress remains silent and doesn't think it's important to address these rumors.
Blessed with good genes, Blunt is a natural beauty with simple enhancements every now and then.
Emily Blunt Will Soon Be Appearing in Christopher Nolan's New Movie Oppenheimer
After the success of A Quiet Place part 2, Emily Blunt will soon be starring in Christopher Nolan's Oppenheimer. Set to return to movie theaters in 2023, the movie is based on the life of theoretical physicist and "the father of the Atomic bomb" J. Robert Oppenheimer.
Although Nolan has never done a biographical drama before, the audience doesn't expect him to follow the typical biopic path and seem to have quite the expectations from the movie.
The lead role of J. Robert Oppenheimer will be played by Cillian Murphy whereas Emily Blunt will be in the role of Katherine 'Kitty' Vissering Oppenheimer, J Robert Oppenheimer's wife.
Based on the Pulitzer Prize-winning book by Kai Bird and Martin J Sherwin, titled American Prometheus: The Triumph And Tragedy Of J Robert Oppenheimer, while the movie is written and directed by Christopher Nolan, his wife Emma Thomas will be producing it.
Blunt was recently seen in Disney's Jungle Cruise starring Dwayne Johnson and Jack Whitehall after resuming her major role in A Quiet Place Part II.
Also Read: Owen Wilson's Plastic Surgery: Did He Get a Nose Job?
The film features Lily played by Blunt, a young woman explorer and scientist rejected by a patriarchal society, as she goes to the Amazon with her effete brother MacGregor played by Jack Whitehall in search of a magical healing tree, albeit it is loosely based on a Disney theme park ride. Frank played by Johnson and his faithful boat helps them across the treacherous river.
Universal Pictures confirmed that work on Oppenheimer will begin in early 2022. Oppenheimer will be shot using a combination of IMAX 65mm and 65mm large-format film for the best image quality, the studio noted. The movie is set to release in theaters on July 21, 2023.
Visit Weight & Skin for more plastic surgery stories of your favorite celebs.