Game of Thrones and MCU's Secret Invasion star Emilia Clarke's weight loss is trending upon featuring on the Jimmy Fallon show. Why does she look incredibly skinny? Is it something to do with the Clean and Lean diet?
Game of Thrones star Emilia Clarke is exactly like the rest of us. She enjoys food and occasionally partakes in sweets. The actress, however, had to be mindful about what she ate while shooting Terminator Genisys (2015).
This meant her eating options were very limited. She ate very little fat, had to limit her sodium consumption to a bare minimum, and counted her calories every day. Having said this, it was quite a long time ago. So, what has changed since then?
The Daenerys Targaryen actress appears to have undergone a noticeable weight loss recently. Is there any truth to it? Let's dive in.
Emilia Clarke's Weight Loss – Something to Do with Clean and Lean Diet?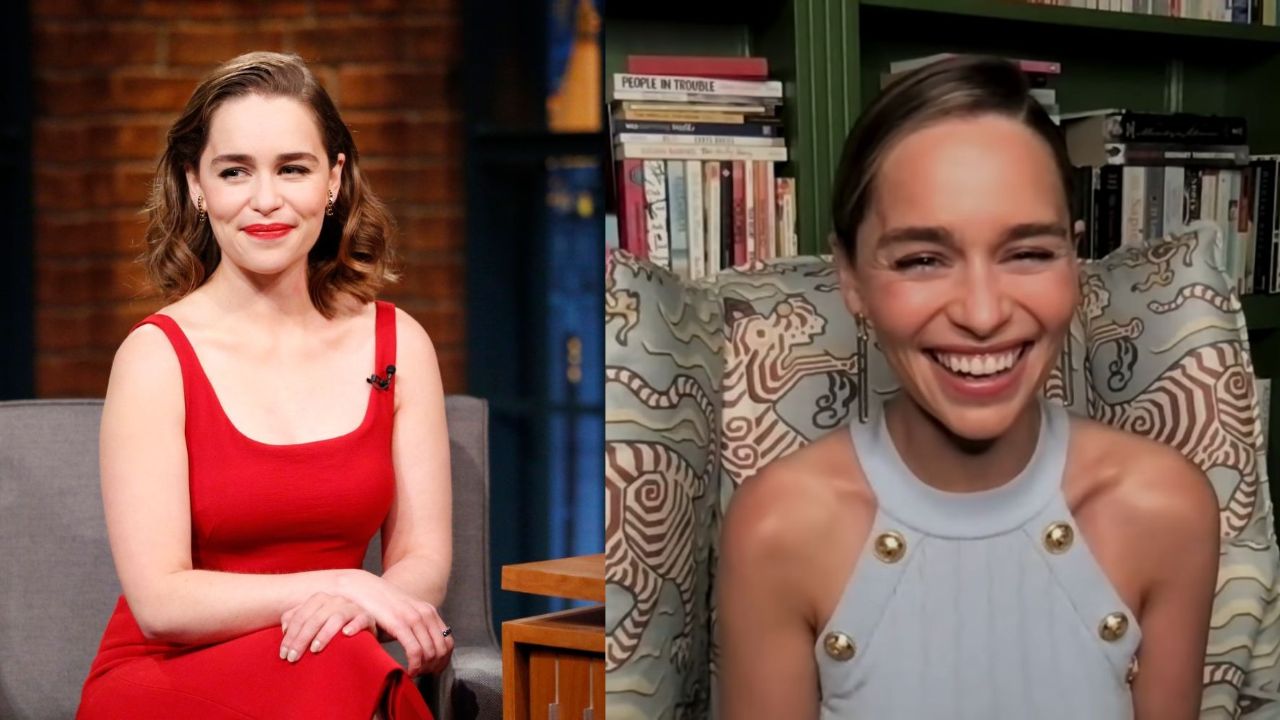 Emilia Clarke before and after weight loss.
Image Source: Weight & Skin
When you talk about Game of Thrones, there is one character who always stands out to many: Khaleesi, Mother of Dragons. Emilia Clarke, the recent subject of weight loss, portrayed Daenerys Targaryen and executed the role to perfection like she was born to play the character.
And, let's face it, playing the role of Mother of Dragons is pretty awesome! But it wasn't her only terrific act. She also had to go through extensive preparation in order to play Sarah Connor in Terminator: Genisys.
You Might Like: Full Story on Ben Roethlisberger's Weight Loss, Diet Plan & Fitness Routine
More significantly, she has conquered some severe health issues, some of which had an effect on both her profession and her diet and fitness habits.
For the Terminator diet, Clarke worked super hard at the time. The actress said,
I've been spending all day, every day in weapons training…On top of that, I have not been allowed to eat anything that might taste good at all.
But, what about her weight loss lately? Why does she look so skinny? Those were the thoughts in many fans' minds when she recently appeared in the Jimmy Fallon show.
Watch: Emilia Clarke Unveils Her New Marvel Series | The Tonight Show Starring Jimmy Fallon
While the actress is yet to shed light on her physique, she did confirm her venture into the Marvel Cinematic Universe with the upcoming Disney+ miniseries Secret Invasion.
Also See: Celebrity Chef Rachael Ray's Weight Loss – What's Her Diet Plan & Fitness Routine?
Clarke said,
I'm already scared. The first people I spoke to from Marvel were their security team and I am convinced that there is a man outside my house. There's been a car parked there for a long time, and I swear to God, he's undercover.
The Emmy nominated star was in talks to take part in the project, which is modeled on the Secret Invasion graphic novel arc of the same name. However, it has been established that those discussions were productive.
Coming back to her physique and noticeable weight loss, the Game of Thrones star previously revealed she is a fan of the Clean and Lean diet that helps her keep regular. She even posted a photo with said diet creator James Duigan.
As claimed by the website, the Clean and Lean diet is intended to put your body in a healthy state, clean of fatty contaminants and lean (potentially weight loss) thanks to nutritious food and frequent exercise.
Duigan has developed a workout program, Bodyism, to complement the diet, with four studios and cafes worldwide. They provide boxing, ballet, and yoga sessions at its venues in London, Capri, Turkey, and the Maldives.
Emilia Clarke's Health Issues, Diet Plan & Workout Routine
Emilia Clarke had her first aneurysm not long after Game of Thrones Season 1 ended. And it took place while she was working out with her personal trainer.
She began to feel as if her brain was ready to explode in the middle of her routine. She tried to fight through the agony and continue exercising, but her trainer insisted on a respite.
A few moments later, she was transported to the hospital. Following the procedure, medics discovered she had another tiny aneurysm that could become an issue in the future.
Also Read: Full Story on Dan Schneider's Weight Loss – What's His Secret?
It didn't impede with the next couple of seasons of Game of Thrones, but she did have it extracted before the fourth season began shooting.
She is now fully healthy now, although she has made a few changes to her diet and fitness schedule.
Emilia is much more relaxed about her food and handles her body as well as the desire for weight loss with greater regard. Her personal trainer, James Duigan, established the Clean and Lean technique, which she uses.
This diet is much more comprehensive, emphasizing clean and basic foods. That implies plenty of protein (save for fish), lots of vegetables, and no processed junk.
Her nutrition is a big aid in keeping her physique and fitness in check, but it's not the only activity she does. She, naturally, works out on a regular basis.
Her most difficult training began while she was shooting Terminator. She spent hours each day in firearms training before and throughout filming. She was doing a lot of weight lifting and kickboxing.
The Dragon Queen no longer does a lot of heavy lifting. Instead, she concentrates on maintaining her body toned and slim by performing high-rep exercises with only her body weight.
Her physical trainer is a great fan of bodyweight workouts and believes that you can remodel your physique with only your own body mass. This allows her to trim up and gain endurance without building muscle. And it ensures that she works out even when she's on the move.
Do Not Miss: Actress Rumer Willis' Weight Loss – Learn the Reason She is So Thin!
Aside from bodyweight training in the gym, Emilia strives to fit in yoga, Pilates, and HIIT routines that are easier to fit in on production days. Switching up your routines across the week, as per her personal trainer, is the ideal route to embrace.
So, what is the significance of variation in her fitness routine? Because it keeps everything fresh. And when your workout is fascinating, you are more likely to stick to it and are less likely to skip it. Needless to say, it works for the 34-year-old.
Emilia now resists straining herself too much. This could be attributed in part to her struggles with two aneurysms. She does what makes her happy.
This entails taking it gently when she requires it and pushing herself a little more when she believes she can. Rather than focusing simply on the outcomes or a figure on the scale, it is about striking the right balance that fosters her health.
Emilia views her training as a way to feel energetic and good about herself. And, as her trainer says, this is the manner in which you ought to always conduct a session.
Yes, reaching a certain number or size, or achieving the targeted weight loss may be the objective. But that doesn't imply you should drive yourself to your limits. In fact, doing so can stymie your progression, elevate your chance of injury, and result in you bulking up.
Check Out: Full Story on 'Good on Paper' Margaret Cho's Weight Loss Trauma & Diet Pill Addiction
If Emilia's routine teaches us anything, it's that it's perfectly alright for things to take a bit longer than anticipated. You're doing fantastic as long as you're making improvements to some degree!
Visit Weight & Skin for more weight loss stories of your favorite celebs.