Learn all the facts surrounding WandaVision star Elizabeth Olsen's alleged plastic surgery procedures, most notably a nose job aka rhinoplasty. Check out her before and after pictures.
The Wanda Maximoff star on Marvel Cinematic Universe, Elizabeth Olsen, is one of the most beautiful actresses in Hollywood right now. Her popularity has risen even further in recent years as fans can't get enough of this talented lady.
The gorgeous Olsen is currently delighting the audience with her amazing performance alongside Paul Bettany in the newest limited series on Disney+ titled WandaVision.
As her spotlight has increased, so have the speculations of her appearance. This beautiful star is at the forefront of plastic surgery rumors on the internet lately. Did she go under the knife? Let's dig deep into the details.
Elizabeth Olsen's Plastic Surgery – Potential Nose Job?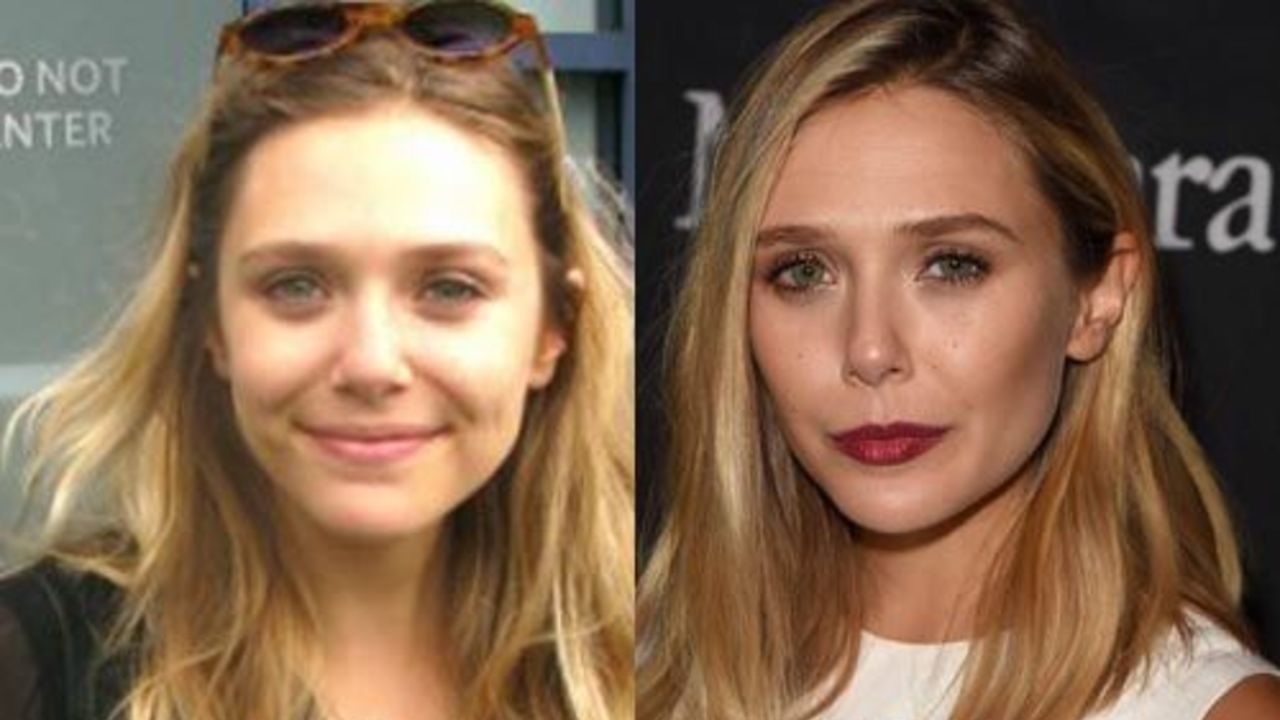 Elizabeth Olsen before and after alleged nose job plastic surgery.
Image Source: Pinterest
Many fans claim Elizabeth Olsen's look has changed a bit in recent years, especially her nasal region. This has naturally brought speculations of plastic surgery.
Rhinoplasty aka nose job is quite popular, and most people who have been interested in plastic surgery tend to get this work done.
You Might Like: 'Wayne's World' Star Mike Myers' Plastic Surgery – Did the Actor Go Under the Knife?
A keen look at the before and after pictures show the fact that there has been a small shift in the region around her nose. The edge and structure both appear modified from her past appearance.
The tip now seems sharp, while the entire nose looks sleek and smooth. Not everybody, though, is willing to accept the rumors of plastic surgery, with some section of fans feeling differently.
Speaking on whether Olsen might have gone under the knife, the renowned plastic surgeon from Miami, Dr. Michael Salzhauer said:
Her appearance is natural and free from any artificial formation.
Meanwhile, the actress is yet to break her silence and address the speculations of cosmetic enhancements. It's unlikely that she'll do it anytime soon.
Also See: Real Truth About Lil Nas X's Plastic Surgery – Breast Implants or Not?
Some fans reckon she's had a nose job just like her sisters. In light of this, our plastic surgery experts at Weight & Skin conducted our own analysis and concluded that her beauty is completely natural and she hasn't made any major adjustments to her face.
Elizabeth Olsen's Fashion Sense Comes from Her Famous Twin Sisters
The little sister of Mary-Kate and Ashley Olsen is in the entertainment business for a pretty long time since the early '90s, and her look has evolved quite a bit since then.
The 31-year-old once revealed that she feels most relaxed in "fitted pants and an oversized blouse," but that's not to suggest that she can't own the red carpet as well 'cause she's done it plenty of times.
Also Read: 'Firefly Lane' Katherine Marie Heigl's Plastic Surgery is Trending But Is It True?
Speaking in 2017 at the National Gallery of Victoria's House of Dior: 70 Years of Haute Couture exhibition gala, she said:
My style is a bit masculine. I'm not really drawn to feminine prints even though I admire them — when I put them on, I feel like I'm playing dress-up in someone else's clothes.
"Lizzie" has starred in movies ranging from How the West Was Fun (1994) to Avengers: Endgame (2019), and she even featured briefly on Full House. However, there appears to be no animosity between her and the famous twins.
Gushing at the same event, the Wanda actress said:
They always look cool, and I can never tell if they're wearing a piece they made or if it's an interesting designer they've found. To me, it all looks like it belongs in their world.
Fashion advice isn't the only stuff that Elizabeth idolizes about her renowned sisters. The twins are leading an intensely private life and offered suggestions to their younger sister when it comes to handling the limelight.
Do Not Miss: Juliana Carlos' Plastic surgery is Making Rounds on the Internet
Speaking about her sisters during an interview with PhiladelphiaStyle in 2017, the actress said:
They're very tight-lipped — notoriously so — and I was not caring what I was saying [in interviews] because I'd assumed no one would read it.
She continued,
That's when we'd have conversations. They'd say, 'You know, even if you don't think anyone's going to read this article, someone might pull the quote later for [something else].' It's all part of how you hope someone interprets you, and how they frame who you are and the work you do.
Needless to say, the three siblings carry a beautiful relationship.
Elizabeth Olsen Discusses WandaVision and Working with Co-star Paul Bettany
The concept of Marvel's latest show WandaVision is one of the most innovative ones in recent memory—and that's why star Elizabeth Olsen leaped on the opportunity to pick up her superhero persona Wanda Maximoff, a.k.a. Scarlet Witch, whose last film involvement was Avengers: Endgame in 2019.
The 31-year-old told People,
I always played the sincerity of the film, while everyone else got to have all the fun, jokey stuff. But this show gives us the time to know her better and see the levity and love in her.
WandaVision centers around Wanda and her fellow Avenger hubby, Vision, an all-powerful android (Paul Bettany), experiencing life as a married couple in the suburbs, but through various classic TV sitcom themes over many decades.
The actress who first featured in Avengers: Age of Ultron (2015) said of the limited Disney+ series:
It sounds so gimmicky, but it is actually part of the storytelling. Why it happens is answered within the show.
While Olsen spent so much time on classic sitcom sets growing up—her older sisters Mary-Kate and Ashley Olsen starred as Michelle Tanner on Full House for 8 seasons from 1987-1995—the Godzilla star reveals her favorite sitcom homage was the episode set in the '70s.
Check Out: Marilyn Manson's Plastic Surgery is Trending on Social Media
Speaking about starring with Bettany, 49, the actress said:
We laughed all the time. It was so bonkers and fun.
She also appreciated the versatility of her character's outfit, save for a few bras.
Olsen claimed,
We were having a lot of fun with trying to be as authentic to each decade as possible, but for the '50s, '60s, the bras are just hilarious. It's a very strange cone shape. I still don't understand why they were a thing.
WandaVision is airing Fridays on Disney+.
Visit Weight & Skin for more plastic surgery stories of your favorite celebs.