Grab all the details of Dua Lipa's noticeable weight loss at the 2021 Grammy Awards. Check out before and after pictures along with her diet plan and fitness routine.
Dua Lipa was named the winner of the 2021 Grammy Award for Best Pop Vocal Album. Her Future Nostalgia edged out hits by Lady Gaga (Chromatica), Taylor Swift (Folklore), Harry Styles (Fine Line), and Justin Bieber (Changes).
During the event, Lipa played Don't Start Now, which was also a part of the nominations for Song of the Year as well as Record of the Year.
Following her appearance at the Grammys, fans couldn't help but notice her slimmer physique. Did Dua Lipa undergo weight loss? What's her secret? Let's find out.
Dua Lipa's Weight Loss Secrets – What's Her Diet Plan & Fitness Routine?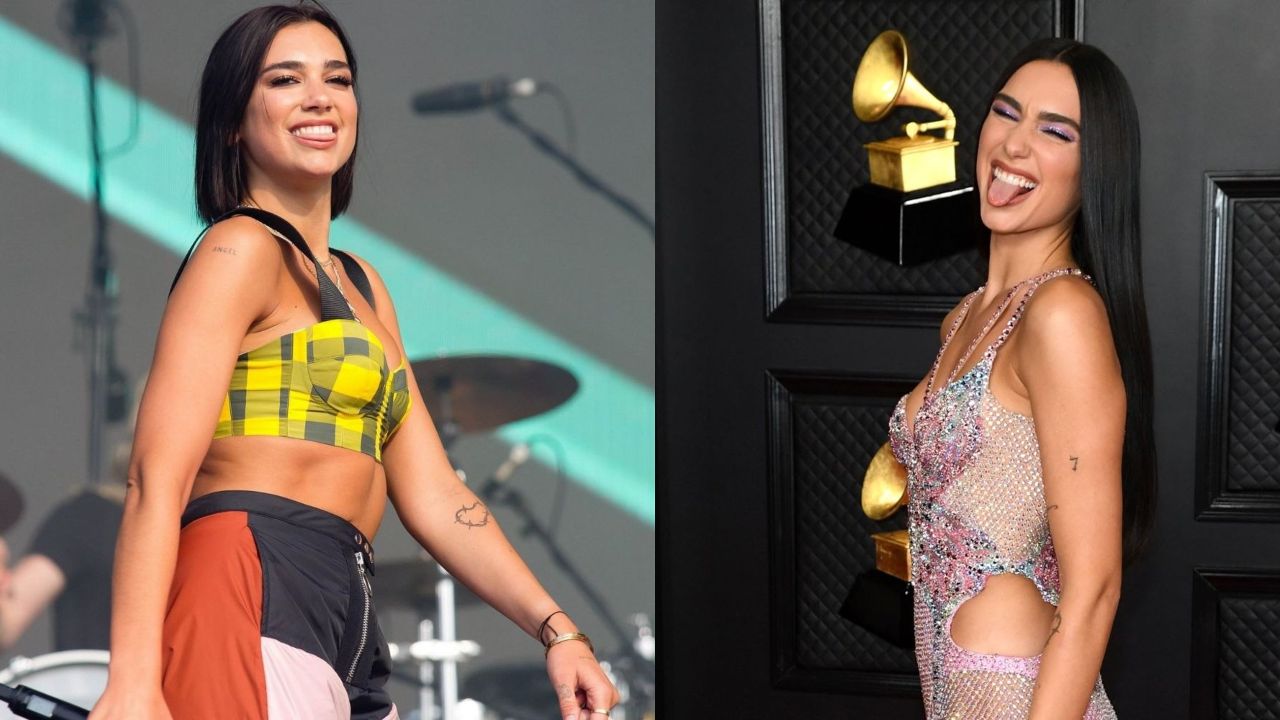 Dua Lipa before and after weight loss.
Image Source: Weight & Skin
Fans are eager to know Dua Lipa's weight loss techniques after seeing her look slim and chiseled at the 2021 Grammy Awards.
The singer stunned onlookers with a performance of Levitating ft. DaBaby in a series of increasingly enticing pink sequined costumes.
Viewers were astounded by the songstress's beautifully lean body as she transitioned from a lavish gown to a sequined blazer to a two-piece bikini during her performance. So, what exactly is Dua Lipa's weight loss secret?
Dua Lipa isn't a huge fan of dieting, but she does strive to eat healthy before her workouts, with bananas and cashew butter being her go-to snacks.
In a Q&A session with British GQ, the New Rules hitmaker is asked what her favorite meal is, and she says "fish and chips."
Dua Lipa – who is also the subject of plastic surgery – avoids sugary snacks in a bid to retain her weight loss quest. She doesn't completely avoid consuming them, but she manages to keep a good balance. The singer explains that while she does indulge in candy, she generally feels drowsy afterward.
You Might Like: 'TWICE' Sana's Weight Loss Journey – Complete Breakdown of Diet Plan & Fitness Routine!
Since the singer is always traveling, she does not have time for workouts on a daily basis. So she mainly holds her curvaceous figure by performing HIIT routines for at least a quarter of an hour every day.
After all, it seems the cornerstone to Dua Lipa's long-term weight loss journey is not a mystery at all – but rather what we are repeatedly reminded about, which is daily exercise and proper nutrition. Who would have guessed?
Dua Lipa's Latest Workout Music Video Gets You "Physical" in No Time
Dua Lipa predicted the new trend: canceling community exercise classes due to COVID-19 fears and getting in shape in the privacy of your own condo chamber.
That's got to be the reason she released Let's Get Physical Work Out (Official Video) on 6th March 2020, after dropping a slightly less engaging music video for her song, Physical, in January.
Whereas the previous video focused extensively on the "future" element of her forthcoming LP Future Nostalgia, this video focuses on absolute, untrimmed '80s sentimentality, with Dua Lipa posing and cheering affirmations over peppy cardio moves, a la Richard Simmons or Mousercise-era Mickey Mouse.
Also See: 'Legacies' Danielle Rose Russell's Weight Loss – Did She Perform Bariatric Surgery?
As with every fine star gym, labeled apparel is part of the thrill. Dua Lipa has a link at the base of the video to sponsored sweatbands, knee socks, bodysuits, and towels that are aptly understood as "Gold's Gym chic."
Buy the entire package so that if you ever exit your premises, you can malign the hushed Outdoor Voices audience at your next Pilates session.
Dua Lipa Channels Her Inner Cher at the 2021 Grammys
Dua Lipa has grabbed a design cue from the supreme fashion icon, Cher. The British starlet strutted down the red carpet at the 2021 Grammy Awards ceremony in a stunning look that channeled the signer—signature hair flip and everything.
Cher was not present at this year's largely virtual event, but her influence was felt via Lipa. The 74-year-old icon dressed in a white skirt and bikini top with a bedazzled butterfly at the core and her hair during the 1974 Grammy Awards.
Also Read: Australian Commentator Matty Johns' Weight Loss – Result of Intermittent Fasting?
Lipa pretty much told her legendary counterpart she's got this as she looked amazing in a super tailored shimmering column dress with a butterfly on the chest.
The Atelier Versace outfit was sensual, sexy, and made a statement, all of which resembled Cher's style. Lipa ornamented her look with Bulgari, Ananya, and Spinelli Kilcollin accessories.
This was Lipa's newer look for the evening; she previously modeled a Versace tuxedo wear and neon green heels. And, given the number of nominations she's earned, the Cher-inspired figure won't be her last.
Even with everybody gazing at her, Lipa, like Cher preceding her, recognizes the importance of keeping her public and private lives apart.
She recently told the Los Angeles Times,
I've grown to be more private because so much of my life is public, and I probably censor myself more than I used to. I also don't love the idea of making music for headlines or for controversy.
At this year's event, meanwhile, Dua Lipa landed a Grammy in the category of Best Pop Vocal Album for Future Nostalgia.
Do Not Miss: 'New Amsterdam' Janet Montgomery's Weight Loss is Trending on the Internet
Visit Weight & Skin for more weight loss stories of your favorite celebs.