Demi Moore's plastic surgery, notably cheek fillers, lip lift, and Botox, are quite evident now. Take a look at Demi Moore before and after cosmetic surgery transformation. Fans often discuss her then and now changes on Reddit and YouTube.
One of the influential figures in Hollywood who brought forth equal pay for women in the entertainment biz, Demi Moore is a name that's going to be remembered for ages to come.
Serving hits like Ghost in 1990, A Few Good Men in 1992, Indecent Proposal in 1993, and Disclosure in 1994, Moore was one of the highest-paid actresses through the 1980s and 1990s.
Not just appreciated for her talent but also for her incredible beauty, Demi Moore is making headlines again. But this time it's for something rather unusual – Plastic Surgery!
Previously, we touched on the plastic surgery efforts of Alex Cooper and Zooey Deschanel.
Demi Moore's Plastic Surgery: The Actress' Current Look Shocked Many!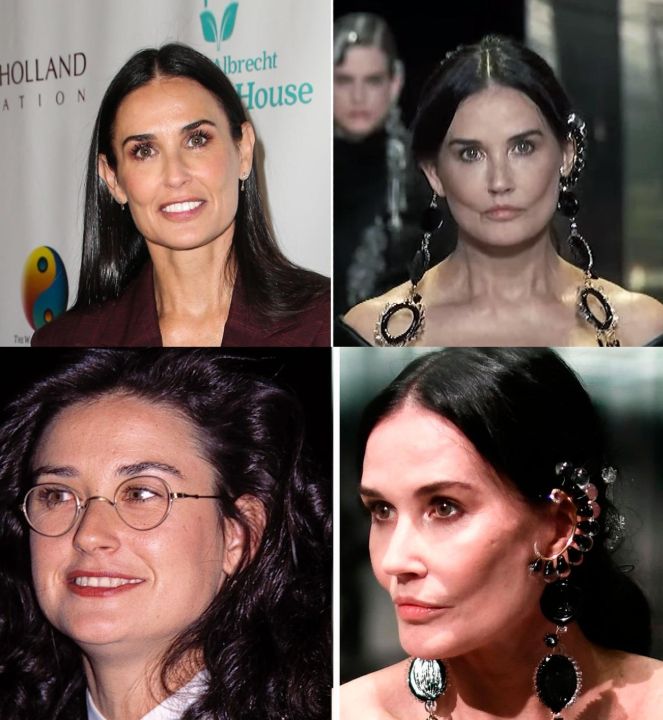 Demi Moore before and after alleged plastic surgery.
Image Source: Weight & Skin
Demi Moore's recent appearance in Paris Fashion week shocked many, inviting accusations of plastic surgery.
Opening the show for Fendi in an elegant silk suit with an off-the-shoulder neckline and dramatic black heavy earrings combined with a sleeked-back hairdo, Demi looked amazingly classy. A stunner at 58, Moore rocked the outfit with her heavily contoured yet simple glammed-up face.
After the star's stunning walk in the show, the buzz about her looking botched went around the Internet. Twitter was filled with questions and intriguing tweets on how Demi Moore doesn't look like herself at all.
Many tweets then began comparing pictures of Demi's pictures and pointing out how she actually went under blades and foozled her face up.
A tweet pointed out how different Demi Moore had become with a comparative picture of her side by side. Claims of Demi having cheek filler, a lip lift at the corners, and the stiffness of Botox were made and many audiences agreed too.
Many fans compared the actress with celebrities like Jennifer Lopez and Gwen Stefani and commented on how they look good with procedures done but Demi failed to achieve the "perfect beauty".
It's not the first time Demi Moore was accused of plastic surgery. Back in 2010, the superstar was accused of doing multiple procedures on her face to retain her youthful beauty.
The actress then clarified, "I have had something done but it's not on my face," in an interview with Elle magazine in 2010.
She then went on to say she might actually go under the knife sometime in the future but showed her annoyance at how she hates it when people are speculating what she did or how much she spent on plastic surgery.
Also backing 2019, Demi Moore opened up about her thoughts on aging in an interview with In Style. She quoted,
It's about embracing and no longer looking for what's wrong and really being in acceptance of everything. Gravity is going in directions that I'm not so fond of. I can look in the mirror occasionally and say 'you're lying, I don't look like that.' but the reality is the comfort I feel in my skin is the greatest gift. I wouldn't trade it. I'm just happy to be where I am.
Back to the present, whilst admitting how surreal opening the show for Fendi was, Demi also spoke out on how she felt regarding all the rumors that are flying around, with Naomi Campbell in her show No Filter With Naomi.
She admitted, "Truly, it didn't hit me until afterward." The star neither denied nor accepted if she actually had plastic surgery.
The Interesting Love Life of Demi Moore: Here's a Full Timeline of Her Relationship History!
Demi Moore's love life is just as interesting as the saga of her career. At the early age of 18, Moore married singer, Freddie Moore on February 8, 1981. The actress adopted the singer's surname as her stage name. Their love only lasted till 1983, finally separating on on August 7, 1985.
Then came Demi's new love interest Timothy Hutton. Not much about the relationship is known, thus many see her affair with Timothy. Soon after, Moore got engaged to her co-star of Wisdom engaged to actor Emilio Estevez.
The couple had intended to marry in December 1986, but the engagement was called off. The reason behind their breakup hasn't been explained properly.
Entering the next phase of her life, Moore married actor Bruce Willis on November 21, 1987, and the couple has three daughters: Rumer Glenn Willis, born August 16, 1988, Scout LaRue Willis, born July 20, 1991, and Tallulah Belle Willis, born February 3, 1994.
This, however, wasn't Demi Moore's happily ever after. They soon decided to separate and officially got divorced on October 18, 2000. In her memoir Inside Out, Moore has talked about what led to their separation.
She writes, "But Bruce didn't want to be the guy who walked out on his family, who did that to his kid. When he left to do Hudson Hawk, things were in a very precious state. I went over to visit once, and, frankly, I had the feeling that he had screwed around."
Demi Moore's love life by then was one of the interesting topics of gossip. Around the time of her divorce, she began dating martial arts instructor Oliver Whitcomb. Their relationship lasted 3 years before they decided they weren't made for each other.
Then came Moore's most famous relationship, with Ashton Kutcher. The pair began dating in 2003 and got married on September 24, 2005. In her book, she explained what her relationship with Kutcher felt like.
She begins by calling it "do-over". "Like I could just go back in time and experience what it was like to be young, with him — much more so than I'd ever been able to experience it when I was actually in my twenties," was how she described the relationship.
Demi also lost her child almost six months into the pregnancy. She then goes on to explain what led the couple to separate. A shocking yet interesting revelation, Demi Moore revealed that threesomes were one of the factors behind the duo's 2011 split.
"I wanted to show him how great and fun I could be," she wrote, deeming the group sex a "mistake" she remorse in her memoir. Moore's divorce with Kutcher got finalized on November 26, 2013.
Visit Weight & Skin for more plastic surgery stories of your favorite celebs.