Grab all the details of Netflix's Army of the Dead lead star Dave Bautista's alleged plastic surgery endeavors. Did he enhance his face to look younger? Check out the before and after comparison pictures.
All across his relatively short 52 years on this planet so far, Bautista has adorned several different professional hats. He has worked as a club bouncer a bodybuilder, a Mixed Martial Arts fighter, and, most notably, his time as a pro wrestler in WWE, where his name was pronounced Batista.
In addition, who can forget his hilarious role as Drax The Destroyer in MCU's Guardians of the Galaxy series!
However, the actor's life has not always been glamorous and filled with stardom, as it took ages for Bautista to know that he had an opportunity to do something meaningful with his life.
Bautista was a dad who was fighting to provide for his family, while his addiction prior to that moment was troublesome (to say the least), and those weren't the only or even the first issues he had.
Bautista, to his credit, managed to turn his fortunes around and is currently one of the most recognizable personalities in Hollywood. With fame, however, comes scrutiny and the microscopic analysis of every little thing you say or do.
Following the release of his latest film Army of the Dead on Netflix, the former wrestler has become the subject of plastic surgery speculations on the internet. Did he really go under the knife? Let's find out.
Did Dave Bautista Undergo Plastic Surgery?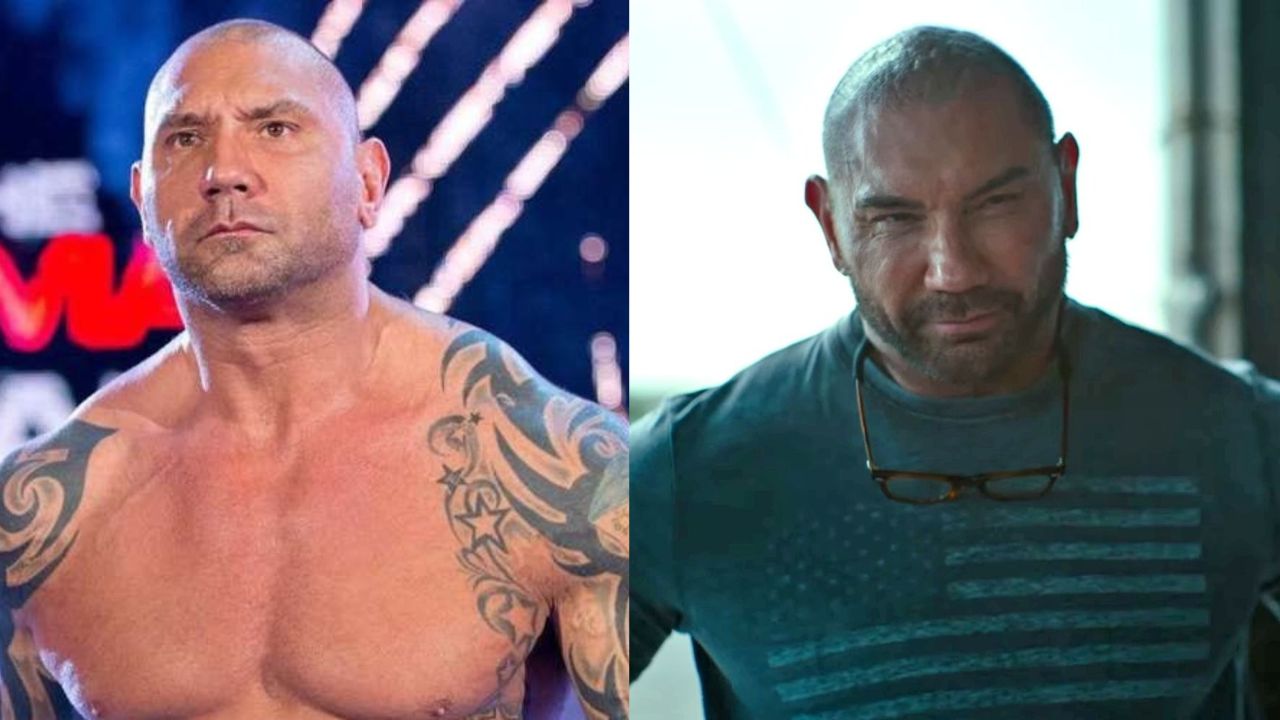 Dave Bautista before and after plastic surgery.
Image Source: Weight & Skin
Fans often debate Dave Bautista's change in appearance on Reddit, in particular his alleged plastic surgery. They have done so for years ever since he briefly made a return to WWE in the last decade.
One such user asked,
Why does Batista look so different since his return? I can't put my finger on it, but something is different about the why he looks…Am I missing something obvious?
One user claimed the reason is simple. He's older, using Botox from Hollywood, and the fact he's off and on PED cycles.
You Might Like: 'Friends' Star Lisa Kudrow's Plastic Surgery – The Untold Truth!
Another user said,
His face is much rounder and he doesn't have that soul patch. He looks like an older Pitbull (who's a complete joke of a rapper btw)
Some suggested he's trimmed down on the muscle, along with the change in his clothing style, which is making him look different.
One user, meanwhile, insisted on potential plastic surgery on his face.
He has definitely had some work done to his face. It's like a different person almost.
Some users also half-joked Batista's eyes seem to get smaller every year, hinting at cosmetic enhancements (in a bid to look younger).
Recently, Bautista made his way into our screens through the brand new Netflix movie Army of the Dead, where he plays a lead role as a former mercenary Scott Ward.
As soon as he appeared on our TVs, viewers were quick to notice a different-looking face of the former WWE champion. Many felt that's got something to do with plastic surgery, although he's been accused of going under the knife since 2014.
Also See: 'Destiney Shahs of Sunset Plastic Surgery' – Destiney Rose's Botox & Cosmetic Fillers!
Upon close inspection, our experts at Weight & Skin reckon the Guardians of the Galaxy star has had Botox injections and facelift surgery, at the very least.
Why Did Dave Bautista Choose 'Army of the Dead' Over 'Suicide Squad'?
Dave Bautista earlier stated that an issue with schedules concerning Zack Snyder's Army of the Dead stopped him from joining James Gunn – the man sitting on the director's chair for Guardians of the Galaxy – to DC Films and Warner Bros. for The Suicide Squad.
Previously, the action star had to choose between Snyder's Netflix original zombie film and Gunn's comic book blockbuster. Bautista chose the former, and in a recent interview with Digital Spy, he revealed the reason.
Also Read: Miranda Cosgrove's Plastic Surgery – Did the iCarly Star Go Under the Knife?
Speaking on why he chose Army of the Dead, the actor said,
I get to build a relationship with Netflix, I get a lead role in a great film — and I get paid a lot more money.
He added,
I had to call James, and I told him, 'It breaks my heart because as a friend, I want to be there with you, but professionally, this is the smart decision for me.'
Bautista continued,
[Gunn] said, 'I completely get it. I'm proud of you that you're even in this position. I'm proud that I had something to do with you being in this position where you have to make these hard decisions.'
Bautista's first project with Snyder and Netflix is the new film Army of the Dead, and the latter might be a future place for the leading man if the zombie epic's streaming launch this month goes as well as expected.
Gunn led Bautista in two Guardians of the Galaxy films, and the duo is set to work together again on a third Guardians film at a later date.
After Disney dismissed Gunn from Marvel Studios over previous contentious tweets, Bautista took to social media to call out the company and blame the management for their decision.
The actor also threatened to end his deal with Disney if Gunn's Guardians of the Galaxy Vol. 3 script was rejected. While Disney ultimately revoked its decision, Gunn had already moved on to Warner Bros. for The Suicide Squad.
Do Not Miss: Audrina Patridge's Plastic Surgery – What's the Secret to Her Changing Looks?
Army of the Dead released in theaters on 14th May before streaming on Netflix on 21st May. As for The Suicide Squad, the film will be released in theaters and on HBO Max on 6th August.
Meanwhile, the third installment of Gunn and Bautista's Guardians of the Galaxy won't hit theaters until 5th May 2023.
Visit Weight & Skin for more plastic surgery stories of your favorite celebs.