Get all the info about Cristina Bautista's incredible weight loss journey.
Based in Santa Paula, California, Cristina Bautista is a personal trainer who's made quite a name for herself as a renowned fitness expert. But her life was not like that all the time, she had led an entirely different lifestyle before.
Cristina Bautista has never worked as a fitness expert before. She had enjoyed a very different life previously, but one aspect prompted her to alter her lifestyle and brought her to the place she is now.
Here's the complete story of how a certain event brought a drastic difference in her life, forever changing her as an individual.
Cristina Bautista's Weight Loss Journey was Inspired By Her Ex-Fiance Cheating on Her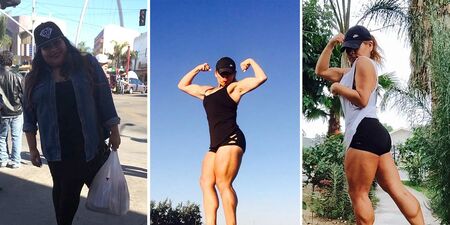 Cristina Bautista before and after weight loss.
Source: Runner's World
As we already know, Cristina Bautista was not a workout specialist before, but you would be shocked to hear she weighed well over her current weight.
Could you imagine that even a fit and active fitness expert once tilted the scale by reaching more than 300 pounds?
But how did Cristina Bautista, who weighed at 307 pounds at her peak to her present size, get a workout instructor body? For four years, she endured a drastic weight loss to hit 135 pounds, dropping 172 pounds in the process.
However, the transition was caused by everything that had arisen in her life that contributed to a incredible shift.
You Might Like: Did American Sportscaster Jon Miller Undergo Weight Loss?
Cristina Bautista's remarkable weight loss in the past four years comes down to the fact that her ex-fiance cheated on her when they were together.
In August 2015, she got a call from her fiancé's mistress, whom she did not know, claiming she was four months pregnant. The news astounded her as she was scheduled to be get wed on October 31 of the same year.
Deeply wounded by her partner's involvement with another lady, Cristina Bautista started to wonder why her fiance had done this to her.
An idea appeared in her head that said, 'He did it because I am overweight and I'm fat and I'm unattractive. That's why he did it.'
She was afraid of never meeting anyone else again, making her realize she had to deal with the discovery. She chose to ignore it, to forgive her fiance, and also to support him raise a kid that was not hers.
Also See: Full Story on American Comedian Kevin James' Impressive 80 Pounds Weight Loss Journey
But after two weeks, Cristina Bautista received a few screenshots from the same mistress who exposed her fiance claiming he loved her instead of Cristina.
It left Bautista distraught discovering there was always love involved, not just mere uncompassionate hookup. She opted to get out of the relationship and stop meddling in their business.
Cristina Bautista's Weight Loss Boosted Her Confidence and Self Esteem
The details about her fiance left Cristina Bautista with emotional trauma. She went through despair, and often even considered suicide.
However, despite suffering through a few painful ups and downs, she gained the strength to keep herself together and rebuild her life again.
Also Read: Reality Star Chumlee's Weight Loss Journey – What's His Diet?
Cristina became eager to undergo weight loss, the one aspect that kept her down all the time and to improve her self-esteem.
She began on a path of weight loss by running that became an ideal starting point for the workout she required to shed pounds. It was tough at first, but she did not give up and held to the notion of a leaner figure by pure resolve and dedication.
Cristina Bautista dropped between 40 and 50 pounds in April 2016. She was excellent at training and tested herself constantly through different obstacles.
Recommended: Full Story on UFC Fighter Jorge Masvidal's Incredible Weight Loss Journey and Diet
She challenged herself as hard as she could, so as of now, she's done all from 5Ks to marathons. And, of course, she complimented her research with an effective diet plan, ensuring she consumed balanced and safe food products every day.
Eventually, she fell to 135 pounds in four years, a big achievement for her work ethic during the time.
Visit Weight & Skin for more weight loss stories of your favorite celebs.