All the facts behind Christina Applegate's alleged plastic surgery endeavors with the aid of before and after pictures. Meanwhile, her no-makeup look is quite stunning!
Many of us may still remember her as Kelly Bundy from Married…With Children (1987-97), but the Dead to Me star on Netflix, Christina Applegate has accomplished a lot since then and has become one of the most prominent actresses in show biz via grit and dedication.
She seemed to have had to work hard to overcome the notoriety that the program imposed upon her, since being the blonde dork was her major path to stardom for a good portion of her professional career at one point.
It took some time, but now that she's here and free to embrace a career that she established, one that doesn't necessitate her being dumb or cliched all that often, she's turned into the lady that many of us imagined she could be.
Seeing her come out in an organic manner has been amazing because it has allowed her true skill to develop, and it has been nothing short of spectacular.
Recently, however, Christina Applegate has found herself at the forefront of plastic surgery speculations on the internet. Did she go under the knife? Let's find out.
Christina Applegate's Plastic Surgery – What's the Truth?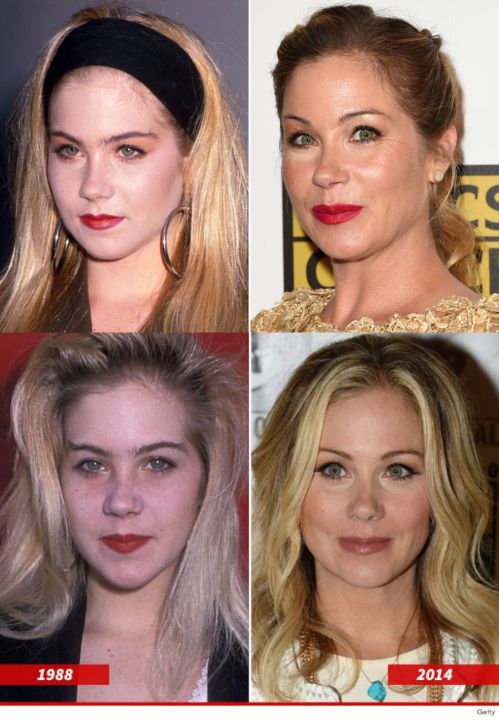 Christina Applegate before and after alleged plastic surgery.
Image Source: Weight & Skin
As with most celebrities who have spent a significant amount of time in the public spotlight — especially ladies — speculation about whether Christina Applegate has ever had plastic surgery is prevalent (as if that sort of stuff mattered more than, you know, if somebody is brilliant and/or a nice person).
Christina doesn't appear to have spoken publicly about whether she's ever had plastic surgery, most likely because she'd rather discuss things like Emmy Awards and philanthropic work.
In the meantime, the actress has been quite vocal about having a double mastectomy in 2008 following her diagnosis of breast cancer.
You Might Like: Rahki Giovanni's Breast Implants Plastic Surgery – Yay or Nay?
Christina's on-screen persona Jen underwent a double mastectomy in Dead to Me, something Christina felt was necessary to discuss on the small screens.
Christina told USA Today,
It hasn't really been discussed on shows before; I don't think there's a lot of characters out there with double mastectomies.
The actress added,
But I went through it, and it's a horribly painful process – emotionally, spiritually, physically – and I never really talked about it. I thought this was my chance to tell a little bit about me, but also all the women that have gone through that.
We honestly can't have enough of Christina's interpretation of Jen in Dead to Me, which makes it even more agonizing that the Season 3 release date is yet to be officially confirmed on Netflix!
Christina Applegate's Natural Look Without Makeup is Amazing!
As you eagerly await Dead to Me Season 3 on Netflix, you have probably noticed something in a matter of moments, the fact that everyone in that series is pretty fashionable!
Also See: Barbra Streisand's Disastrous Plastic Surgery – The Complete Details!
And, yeah, they've got great makeup artists, costume designers, and illumination to make them appear amazing, but still!
We've been paying close attention to Christina Applegate's portrayal of Jen Harding. Christina is not only talented as an actress, but she is also quite attractive. Therefore, we had to wonder: Is Christina Applegate as beautiful without makeup as she is with it? Spoilers: By all means!
Christina has been appearing on TV screens since she was three months old when she featured on Days of Our Lives as a newborn, and she has had a fairly constant crop of acting roles since then.
Her breakthrough performance was as Kelly Bundy on Married… with Children, which she began when she was merely a teenager at 16. To state Christina has lived a life in the spotlight is an understatement.
Also Read: Tara Lipinski's Plastic Surgery – Botox Injections, Nose Job, Chin Fillers!
Needless to say, Christina should definitely feel free to wear as much (or as little) makeup as she wishes. We adore Christina Applegate's look either way!
Visit Weight & Skin for more plastic surgery stories of your favorite celebs.