Everything about former Tennis player Chris Evert's plastic surgery procedures, most notably Botox injections & eyelid surgery. Take a look at her before and after pictures.
Chris Evert, well-renowned as a former world #1 tennis star from the United States, may have undergone plastic surgery. She genuinely looks fantastic for her age even at 66. Well, some could argue she looks artificial and unnatural.
Needless to say, Evert's time on the court as a pro means she got exposed to the sun for long periods of time every day. And we've all seen what the excessive sun can do to your skin! So, has she really made cosmetic enhancements? Let's find out.
Chris Evert's Plastic Surgery – What's the Tea?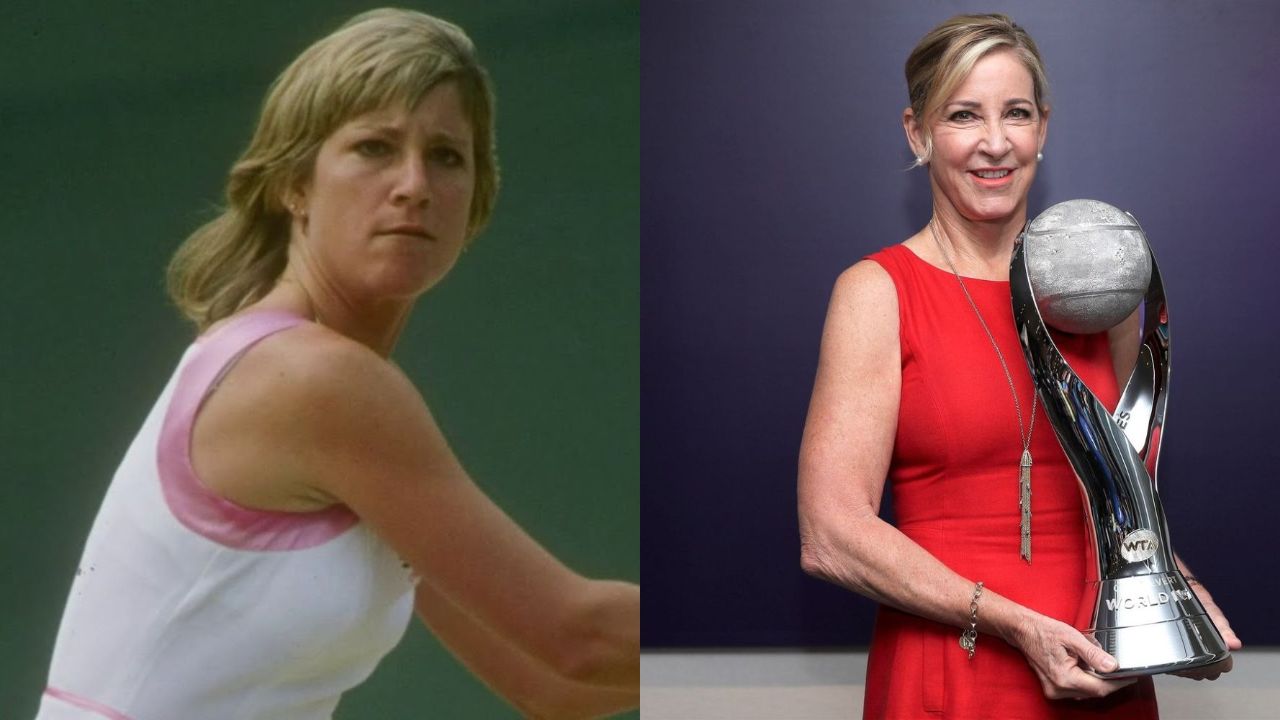 Chris Evert before and after plastic surgery.
Image Source: Weight & Skin
Back in 2012, fans started noticing how Chris Evert looks unnatural, and many raised concerns that she might not be aging gracefully.
One user wondered in a Tennis forum,
Has anyone else noticed the freaky look of Chris Evert when they do close-ups, especially her eyes? Really freaks me out. Looks to me like she's had lots of plastic surgery. Why can't people just age gracefully? As a side note, she is a pretty bad commentator.
Ignoring the bad commentator part which is pretty harsh, one of the responses made quite a bit of sense.
You Might Like: Real Truth About 'Kiss' Paul Stanley's Plastic Surgery Speculations
A person claimed too much exposure to sunlight prevents a professional tennis player from aging gracefully. And as we know, people who appear on television are often urged to look attractive.
On the contrary, you could argue this sounds like an excuse because you'd think they can if they really want to, and it's more about the mindset she carries rather than the number of wrinkles.
Needless to say, it seems quite obvious Evert has had more than a little work done on her face. Some fans reckon one of them includes a boob job, although it's debatable. There's also something about her eyes. They don't look as natural as they should.
Back in 2017, a user on another forum stated,
Chrissie looks pretty good for a 62-year-old. She's probably had some botox/plastic surgery but that's hardly uncommon among older celebrities who work on TV. Evert looks very trim and in shape, but she has this weird way of holding her mouth, kind of pursing her lips all the time. I can't remember if she always did this, or if it could be related to botox or some other treatment.
Our experts at Weight & Skin delved into this matter and contrasted her before and after changes. Upon close inspection, we can conclude Chris Evert has had Botox injections and blepharoplasty aka eyelid surgery.
Also See: 'Sex/Life' Star Sarah Shahi's Plastic Surgery is Making Rounds on Social Media
Meanwhile, the rumors of breast implants and facelift surgery seem a bit far-fetched.
Chris Evert Blamed Menopause for Her Divorce from Ex-Husband Andy Mill
Chris Evert, the tennis great, opened up about her marriage to Olympian Andy Mill, claiming that menopause played a significant role in their 2006 split.
Speaking on Lance Armstrong's The Forward Podcast, Evert didn't go into too much detail, but she did indicate that the hormonal fluctuations connected with menopause had a bad impact on her marital relationship that lasted 18 years.
She said,
We had a rough couple of years, because I married Greg Norman who was Andy's friend. I don't know, I was going through menopausal stuff that doesn't get talked about enough – what women go through, you know, at 50ish.
Evert and Norman eventually divorced after only 15 months of matrimony.
Also Read: Piper Rockelle's Plastic Surgery – Did She Pull a Prank?
Chris told People,
I spent the summer in Aspen healing. Things are back to normal, and my sons are my first priority.
Despite their difficulties, Evert and Mill maintained a friendly relationship with their 3 kids, Colton, 25, Nicholas, 27, and Alexander, 29.
Evert added she is still a family with Andy even though they don't live together anymore. She reckoned that's the best way to put their relationship.
Visit Weight & Skin for more plastic surgery stories of your favorite celebs.