RHOBH star Brandi Glanville spoke about the plastic surgery claims on her face following an episode of the Hayu series on 22nd July 2020.
If you're a follower of Real Housewives of Beverly Hills, you perhaps are curious about what happened to Brandi Glanville's mouth to make her lips appear, well, somewhat skewed.
After years of rumors, the plastic surgery enthusiast discovered her face is a little disfigured — and actually, it has to do with cosmetic procedures that went wrong.
Brandi Glanville Shut Down Plastic Surgery Accusations on Her Face
It is fair to assume fans at home are often ready to express their feelings when it comes to reality show celebrities.
And when Twitter users started to bombard Brandi's page with tweets regarding her face following alleged plastic surgery, she was swift to react to the accusations as well.
Responding to some random Twitter user, Brandi blasted the rumors and said, "first off you are mean. I do look bad but I haven't done anything to my face. I was watching makeup tutorials and trying not to use so much blush and please f**k off hater."
Brandi Glanville Previously Talked About Lip Treatments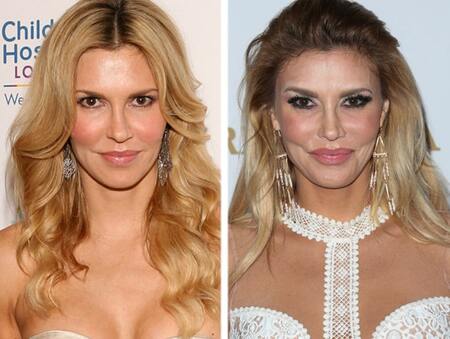 Brandi Glanville before and after plastic surgery.
Source: Pinterest
Earlier, the RHOBH star had opened up about getting her lips treated that did not go the way she expected.
Brandi admitted that a laser cosmetic operation left her with scar tissue, the reason her lips appear the way they do today.
You Might Like: TikTok Star Charli D'Amelio's Plastic Surgery – Did She Get a Nose Job?
In the YouTube clip, she explained:
"I had laser hair removal on my upper lip about 2009, maybe 8? And I got a third-degree burn. And my face on the right side doesn't move the way my face on the left side moves.
"That is why I have some nerve damage and scar tissue. So I talk out of the side of my mouth."
Brandi Glanville's Past Plastic Surgery Includes Breast Implants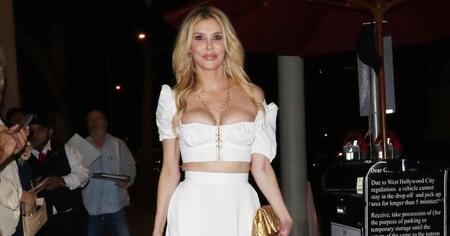 Brandi Glanville underwent plastic surgery in the past, most notably breast implants.
Source: Pinterest
Back in 2013, the best-selling author revealed she invested at least $30,000 on cosmetic treatments, including breast implants following the birth of sons Mason and Jake to former husband Eddie Cibrian.
"I didn't want them porn-style or anything crazy," Brandi Glanville told Life & Style of her B-cups. "My breast implants made me feel like myself again — womanly and secure."
Also See: 'Pretty Little Liars' Star Lucy Hale's Plastic Surgery – The Real Truth
The podcast host also admitted she has had facial treatments when she was 25 years old and had a "liquid nose job" when she fractured her nose in 2009.
"A doctor has to replace the fillers in it periodically. But I haven't had anything else done to my face," she insisted.
Brandi Glanville Shared Her Opinions About Plastic Surgery
During an interview with Shape, Brandi shared her views on plastic surgery treatments such as botox and fillers, stating that she relies on the philosophy of "less is more."
"Having grown up modeling, I'm very self-aware of my physical appearance," Brandi Glanville said. "It's hard to grow older, especially in this town where everyone is perfect! They're all 20 years old and gorgeous and I'm now in the same dating pool as them, yikes, it's really hard!"
"This town makes you insecure. And yes, I'll cop to a few plastic surgery procedures like Botox and fillers. I think everyone should do what makes them feel good but remember: Less is more!"
Visit Weight & Skin for more plastic surgery stories of your favorite celebs.