All the facts behind sportscaster Bob Costas' plastic surgery efforts, allegedly Botox around his eyes and facelift. Take a glance at his before and after pictures.
When fans think of celebs undergoing plastic surgery, they usually think of women. The entertainment business, however, is equally cruel when it comes to guys.
Actors, actresses, artists, and TV personalities are constantly under pressure to keep their youthful appearance in order to compete with today's younger, up-and-coming celebrities.
Bob Costas, well-renowned for his long tenure as an NBC sportscaster, is 69 years old as of 2021. He had been a part of the national network's lineup from the early 1980s till 2019, and he's hosted nine Olympic games for them.
Costas is well noted for his MLB Network play-by-play analysis. He's worked in sportscasting for a long time, beginning with the NFL and NBA, as well as MLB. He's even presented the U.S. Open Golf Tournament and served as a co-host for the Kentucky Derby.
Lately, Bob is making rounds over his alleged plastic surgery procedures. Is there any truth to it? Stick with us to find out.
Did Bob Costas Have Plastic Surgery? What's Up With His Eye?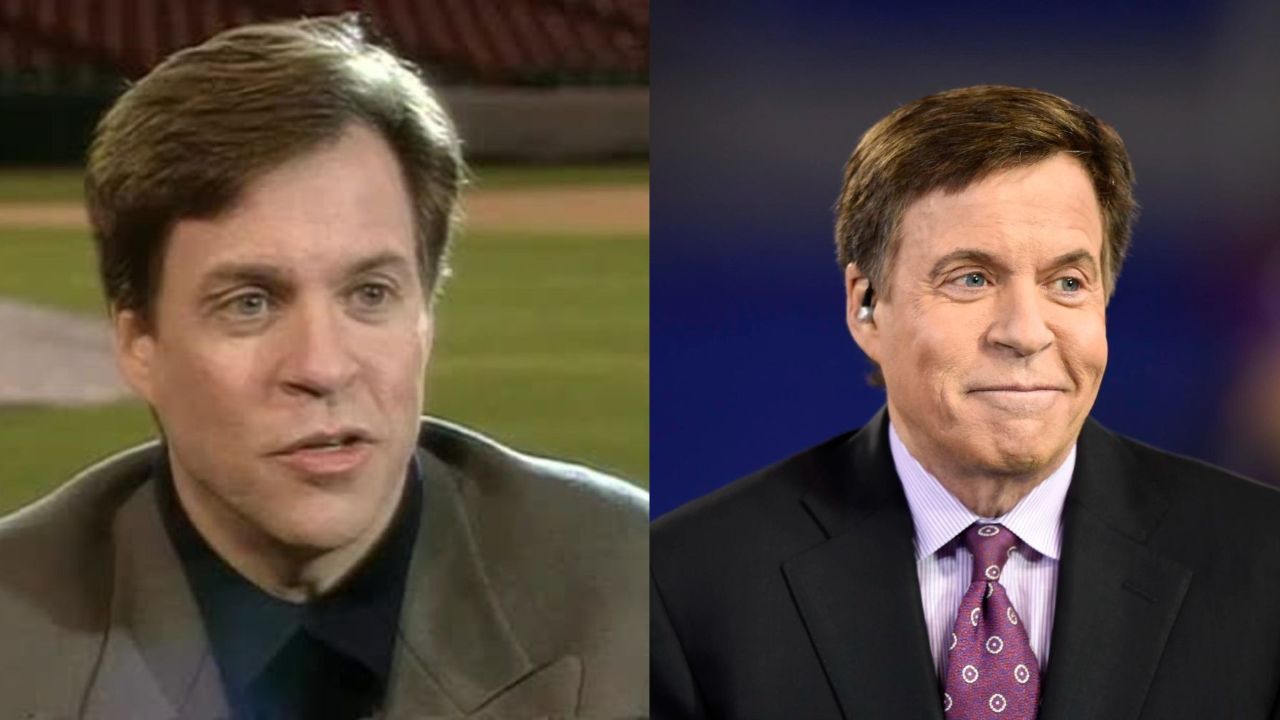 Bob Costas before and after plastic surgery, notably his eye.
Image Source: Weight & Skin
Is it true that Bob Costas had plastic surgery? Costas' forehead has few if any creases or wrinkles. Botox was most likely employed to counteract the indications of aging because the skin is sleek and youthful-looking.
Many people believe he injected Botox around his eyes to prevent wrinkles and smile lines. This could be the case, as some have noticed that Costas appears to have undergone another procedure shortly before the 2014 Olympics.
Botox has been widely utilized to reduce the sight of frown lines on the brow since its cosmetic benefits were discovered in 1989.
You Might Like: Real Truth About Kathy Hilton's Plastic Surgery Speculations
Many individuals feel that Botox was to blame for his eye infection. His absence from certain Olympic coverage had thrown fuel to the fires of gossip, with some claiming that he missed work due to an illness induced by Botox.
Having said this, the side effects of this procedure apparently include headaches, trouble swallowing, and flu-like conditions, and "pink eye" is not one of them. His infection, according to cosmetic specialists, was not triggered by injections.
Costas may have had some facelift surgery in addition to the Botox injections, according to other experts, though. The broadcaster's face is devoid of wrinkles, and flabby skin has been reduced.
Many people reckon Costas has had too many surgeries and that his face is too inflexible and doesn't express correctly, as a result. Again, this is based on the subjective opinions of a few people, and there are just as many individuals who believe the operation was successful.
Costas hasn't spoken anything about any procedures he's had, but it's evident from his look that something isn't quite right. There is also a significant dispute over whether the treatments appear to be effective.
Also See: Golfer Phil Mickelson's Plastic Surgery – Did He Make Cosmetic Enhancements?
While viewers' and Costas' preferences vary, his face does not appear warped in the manner that some celebrities' faces do after numerous treatments.
Bob Costas has been in the public glare for a long time, and he intends to keep it that way for the foreseeable future. Plastic surgery is just another technique for him to keep his youthful appearance and remain competitive in the broadcasting industry.
Who is Bob Costas?
Born on 22nd March 1952 in Queens, New York, Bob Costas is TV news and sports reporter, who became popular upon hosting the Olympics for NBC.
Prior to fame, he left Syracuse University, where he was pursuing a degree in communications. In 2012, he was handed the Walter Cronkite Award for Excellence in Journalism.
Also Read: 'Army of the Dead' Dave Bautista's Plastic Surgery – Complete Breakdown of Alleged Enhancements!
As far as his family life is concerned, on 24th June 1983, Bob tied the knot with Carole Krumenacher, and following their divorce in 2001, he exchanged vows with Jill Sutton on 14th March 2004.
Costas has two children, a son named Keith and a daughter named Taylor.
Visit Weight & Skin for more interesting plastic surgery stories of your favorite celebs.