Billy Gardell went on an incredible weight loss journey for the sake of his health after the Mike & Molly star got diagnosed with Type 2 diabetes.
Born on 20th August 1969, Billy Gardell is an American stand-up comedian, actor, game show presenter, and voice artist. Gardell is well-known for playing the role of Mike Biggs, a Chicago cop in the sitcom Mike & Molly.
He also played a recurring role as Billy Colivida in another sitcom Yes, Dear, and starred as a police officer in 12 episodes of My Name Is Earl.
Gardell lent his voice for Santa in computer-animated TV Special Ice Age: Mammoth Christmas. In addition, he featured on Sullivan & Son with recurring appearances as Lyle Winkler. Gardell has been portraying Bob Wheeler in the CBS comedy Bob Hearts Abishola since 2019.
Billy Gardell's Weight Loss is an Effort to Fight Diabetes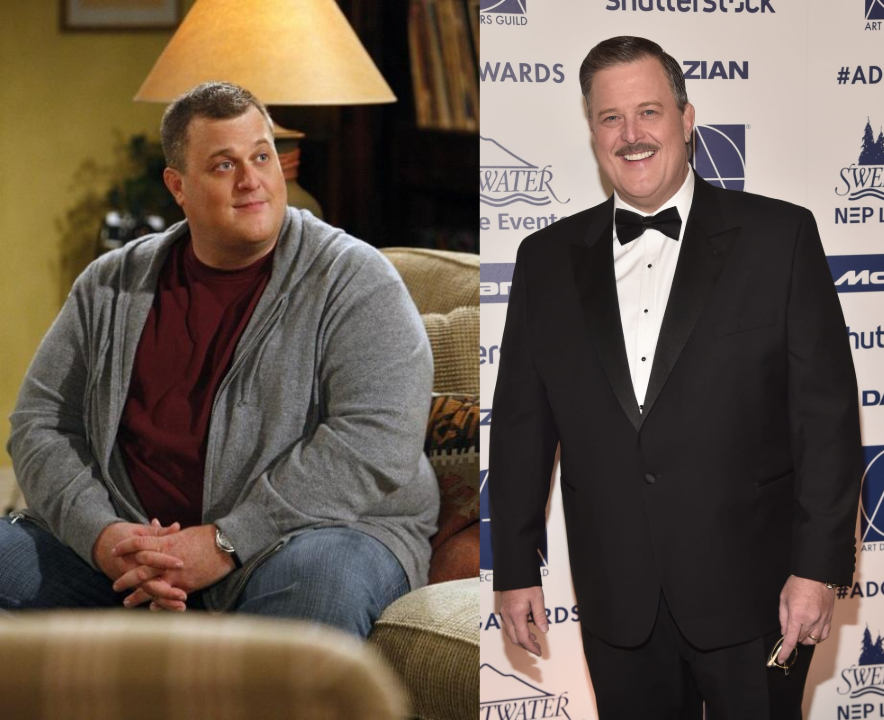 Billy Gardell before and after unbelievable weight loss.
Image Source: Weight & Skin
Billy Gardell's weight may not have been the primary reason that landed him the role of Mike Biggs in the CBS sitcom Mike & Molly (2010-2016).
However, it definitely helped and was one of the reasons why he was able to perform so well and connect with the viewers in an exceptional manner.
You Might Like: Aidy Bryant's Weight Loss is Making Rounds on the Internet
Having said this, even back then the resident of Swissvale, Pennsylvania, was very mindful of his massive physique when he had just begun in the show.
The actor carries the same mindset to this day, striving more than ever to undergo weight loss and win the battle against diabetes.
Billy Gardell has always been a man with health issues and unhealthy habits prior to his sober days. As he recalled the incident in an interview with Wicked Local Cambridge in July 2019,
I feel like my whole life has been quitting things.
He had been smoking and drinking since he was relatively young. But when the interview took place, he had given up drinking and smoking and was sober for 11 years.
But his weight, as per him, was the final devil. A type 2 diabetes patient whose weight hit as much as 350 pounds at a certain point in his life, Gardell failed to handle it.
Also See: LPGA Golfer Gerina Piller's Weight Loss is Making Rounds on the Internet
"I grew fat," he said speaking with the East Valley Tribune in August 2011, when he came to know of an article by Marie Claire who claimed seeing two overweight people having a romance (in Mike & Molly) was distasteful.
He added,
You think I've never heard fat jokes before? I learned a long time ago about life that, hey, sometimes some people just ain't going to like your face. That's their thing.
His weight loss journey, meanwhile, wasn't about looking better for the camera. It was always about his well-being and living a long, healthy life.
Billy Gardell Says He is Now Making Right Choices After Pursuing Weight Loss
Billy Gardell told East Valley Tribune he was making some effort to improve his situation. In 2011, he collaborated with a dietitian and a therapist to keep his weight under check, despite having bad days.
He said,
There are some days when I feel like rolling around in a pizza. I'm trying to keep the good days outnumbering the bad ones.
Gardell also learned to make the best decisions in his dietary habits while he was on the road that year.
Also Read: Andra Day's Weight Loss Journey – The Complete Story!
When he appeared on The Late Late Show with Craig Ferguson, Gardell confirmed he had undergone about 45 pounds of weight loss and that he would have preferred to lose another 30.
Fast forward a couple of years to June 2015, speaking with Tampa Bay Times, Gardell announced he had lost 70 lbs and was eager to lose 80 more.
A couple of different things started me trying to get a little healthier. I wanted to be around for my child. And my knees can't take it anymore, man. I've got to take some of this weight off. I've lost 70, but I still got 80 to go.
Coming to 2020, Gardell opted to make even more sacrifices to lose weight and keep his diabetes under check. He completed Novo Nordisk's transition program in March 2020 to take care of his type 2 diabetes.
Do Not Miss: Full Story on WNBC Reporter Pat Battle's Weight Loss in 2020
The stand-up comedian then began taking Ozempic, the company's injectable non-insulin medication. Needless to say, he looks fitter than ever right now.
Visit Weight & Skin for more weight loss stories of your favorite celebs.