Via rags and riches, the women who turned $1,000 into a billion-dollar company, the maker of 'The Corcoran Group,' the 'Shark Tank' host, an activist, a lobbyist, an author, a TV celebrity, and a syndicated columnist, Barbara Corcoran has done it all.
What prompted Barbara Corcoran to conduct plastic surgery – appearance, or necessary condition? Follow the article to know the full details of her adjustments and speculated cosmetic surgeries.
Barbara Corcoran Survived Skin Cancer; Underwent Facial Plastic Surgery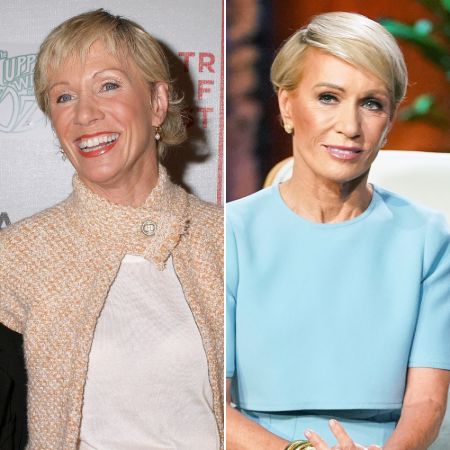 Barbara Corcoran before and after plastic surgery.
Source: Life and Style Mag
Skin cancer is the hardest to identify because it starts where you can see it. Unfortunately, years later, Barbara Corcoran discovered the lump on her left eyelid was, in fact, a cancerous basal cell.
In a speech she stated, trembling at the knees with terror because cancer is, after all, a huge deal. The operation went well, though, and now she is smiling even more than before.
Also Read: Are Halle Berry Plastic Surgery Rumors True? Evidence with Before and After Comparisons
The real-estate queen openly admitted that as long as she was playing with her face, she may as well turn it into something nice. That is why she strived for plastic surgery and had an eye boost. And we ask, why not? She looks fabulous!
Barbara, 70, said her left eye still needs to work, but her right 'looks drop-dead gorgeous.' We can't help but agree with her on that.
Did She Get Facelift?
In the recent 'Shark Tank' season, the entrepreneur looked like she was aging backward. There is no question the beauty and elegance of the lady, is going to enhance with the years.
Dr. Anthony Youn, a board-certified cosmetic surgeon, believed the corporate woman got a facelift plastic surgery that sculpted and strengthened her jawline.
Dr. Alexander Rivkin, the creator of 'Westside Aesthetics,' suggested the 'Shark Tank' ace could have sought the 'Profound' therapy, which is a microneedle radio frequency machine that costs between $4,000 to $7,000 per session. It is one of the most powerful, efficient methods for tightening and smoothing the skin available on the market.
The doctor suggests the preserved contours of her cheekbones and cheek is presumably achieved through fat transfer, collagen stimulators like Sculptra, or fillers like Voluma.
Corcoran is Married to a Former FBI Agent Husband
Corcoran bumped into Bill Higgins, a retired FBI agent, and Navy commander, at a conference in New York in 1981, as per Yahoo Entertainment. Higgins was taken with Corcoran, but he approached her under the guise of business.
Corcoran's shark-like attributes have clearly always been a key component of her, where after a few work meetings, she made the first move to take her relationship to the next level and asked Higgins to spend the weekend with her.
Higgins turned her down. He now understands that his resistance just fuelled Corcoran's power. "By me saying no, I think, knowing Barbara now, that just did it."
You Might Like: Has Doja Cat Went Under the Knife? All Details on Her Plastic Surgery
Higgins was correct on that. Corcoran followed him for six months, and after getting into a relationship for a while, the pair moved together with Higgins' four kids from a previous marriage.
As per Yahoo, two years on, the couple got engaged in Norway. "When Bill proposed to me and said, 'Want to marry me?' I swear to God my thought was 'Eh, I'm not sure, I'll give it a whirl,'" Corcoran said.
Corcoran's insight was yet again on the mark – after thirty years together, the pair is still going stronger than ever.
Visit Weight & Skin for more plastic surgery stories of your favorite celebs.