Everything about 'The Hills' star Audrina Patridge's multiple plastic surgery procedures. Check out her complete before and after transformation.
Sure, the entire decade of the 2000s was a treasure trove for incredible TV shows, but nothing sparked more anticipation than Natasha Bedingfield's Unwritten and the pulling of guitar strings that signaled the opening notes.
The Hills will always be the pinnacle of reality television, and the individuals who made it so are immortalized.
And, just as no dude will ever rock battle boots to the beaches again, the fashion looks worn by Lauren Conrad, Audrina Patridge, Whitney Port, Heidi Montag, and, yes, even Spencer Pratt, totally transformed the way we styled our face and used eyelashes for years.
But, after the first season of The Hills aired in 2006 (before being resurrected for The Hills: New Beginnings in 2019), a lot of things have changed, not only in terms of the latest fashion but also for the cast.
Audrina was clearly supposed to be the edgy one. To put it another way, she's the only one who isn't blonde. The fact that she worked at a record label's reception and donned a wrist cuff occasionally only added to the evidence.
She's also to blame for the amount of pencil eyeliner we squandered on our waterlines. It's wonderful to see that she can now get highlights again.
Meanwhile, Audrina Patridge is currently at the forefront of plastic surgery speculations on the internet. Did she really go under the knife? Let's find out.
Audrina Patridge's Plastic Surgery – Cosmetic Surgeons Have Their Say!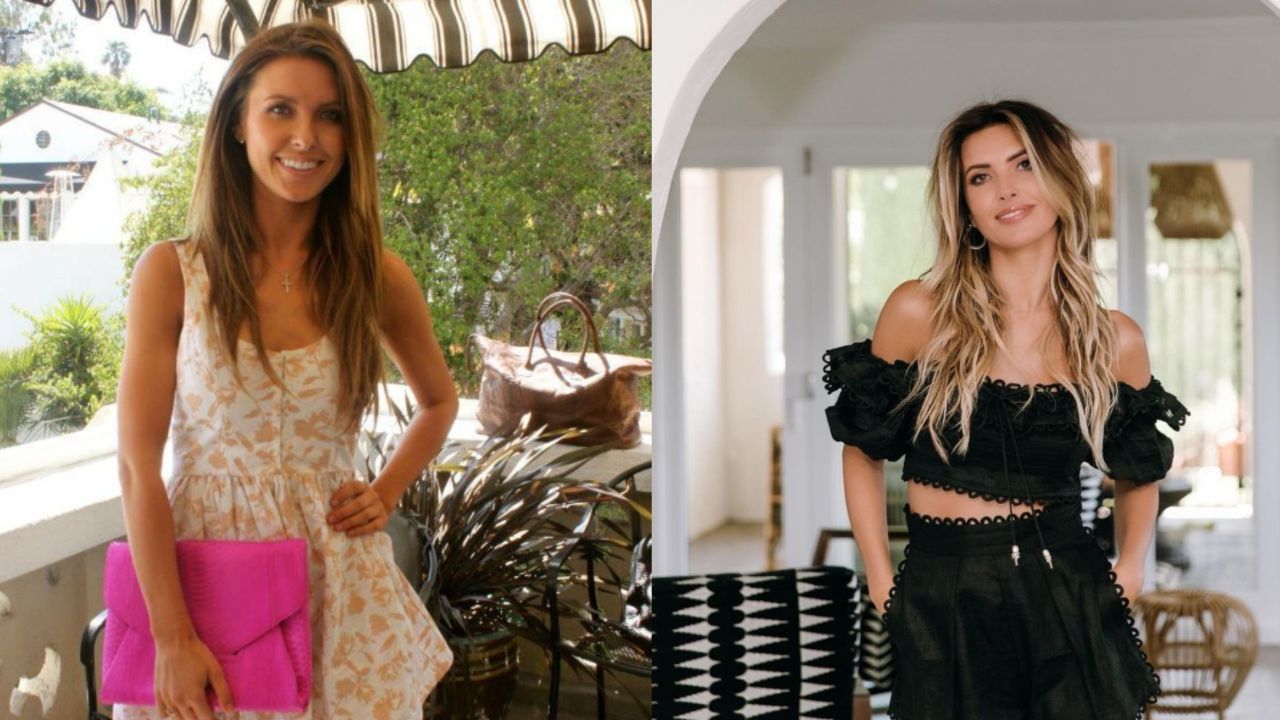 Audrina Patridge before and after plastic surgery.
Image Source: Weight & Skin
Audrina Patridge went from reality TV star to famous actress, but her fans observed that as her celebrity grew, so did other facets of her body.
MYA, a cosmetics company, has examined Audrina's changing appearance and provided their opinion on how she achieved her stunning new look.
An MYA Plastic Surgery expert explained,
I believe it is possible that Audrina Patridge has had some subtle non-surgical lip fillers done. Her upper lip looks fuller and has a more defined shape, giving a more gentle smile.
They added,
The provider has given a natural result and Audrina's lips look in proportion to her face. The average cost of lip fillers can range depending on the provider and how much filler is used but you can expect to pay between £200 – £1000 per treatment.
Audrina's eyes are lighter and her brows are raised, which is normally a sign of non-surgical injections meant to get rid of wrinkles (also known as Botox).
You Might Like: Portia de Rossi's Plastic Surgery – The Complete Breakdown!
Since she carries a sleek forehead, raised eyebrow arches, and a minimal frown/expression, Audrina is believed to have had Botox to her forehead and glabella (somewhere between the eyebrows).
The procedure usually lasts 3-6 months, after which the folds and wrinkles start to emerge and need to be handled again as muscle activity steadily returns.
If you want to look younger, the treatment can provide the skin a healthier complexion, or it can be utilized as a precautionary measure to delay the onset of wrinkles.
Audrina's breasts have grown significantly in size, which is the most visible improvement to her body. Audrina's assets are now bigger and she has more cleavage, so it's likely she performed a boob job.
Using an implant, a boob job seeks to improve the scale, shape, or roundness of the breast. Audrina most likely asked for a natural shape and scale to maintain her body in proportion.
This can be accomplished in a variety of ways, based on the patient's existing breast tissue and the doctor's advice for implant form, volume, and placement. This technique costs between £5,500 and £6000 on average.
Audrina's face appears to be much more chiseled and structured when contrasting before and after images. While many people believe it's because of non-surgical dermal fillers, it could be down to weight loss.
Also See: Real Truth About Elon Musk's Plastic Surgery – Facelift & Hair Transplant?
The impact of weight loss on your physical expressions should not be overlooked. Weight loss can occur along the jawline as well as the nose, resulting in drastic results.
In the meantime, most cosmetic surgeons believe Audrina Patridge looks fantastic at the age of 36.
Audrina Patridge Felt Pressured Into Plastic Surgery for "Perfect" Body
Audrina Patridge and Heidi Pratt, her Hills costar, share at least one common point: plastic surgery. While Patridge has vehemently refuted it, a friend confirmed to Us Weekly that the then-25-year-old had surgery — and it gave her the morale boost she sought.
The friend added,
(She) feels she has to be perfect to continue her career in TV and film.
Patridge is proud of her "banging body" now that she has substantially bigger breasts, a friend claimed. She's comfortable in her new appearance and she is unlikely to go for further operations, added another pal.
Also Read: Tawny Kitaen's Botched Plastic Surgery – The Untold Truth!
Spencer Pratt, Patridge's archenemy, famously slammed Patridge's alleged operations on Twitter, calling them "nasty Tijuana plastic surgery."
Pratt's malicious remarks irritate her, and she hates Spencer, her friend confirmed.
Visit Weight & Skin for more plastic surgery stories of your favorite celebs.