Grab all the details of Aubrey Plaza's plastic surgery endeavors with before and after images. Most fans suspect the 'Happiest Season' actress went under the knife for Botox injections.
Born on 26th June 1984, Aubrey Plaza is an American actress and comedian. She started her career presenting improv and sketches at the Upright Citizens Brigade Theatre.
She is most renowned for her appearance as April Ludgate on NBC's political satire mockumentary sitcom Parks and Recreation (2009–2015). Later, she featured in the FX cable drama series Legion (2017–2019).
Recently, Aubrey Plaza is at the forefront of plastic surgery accusations. Did this gorgeous actress really go under the knife? Let's find out.
Fans Often Debate Aubrey Plaza's Plastic Surgery on Reddit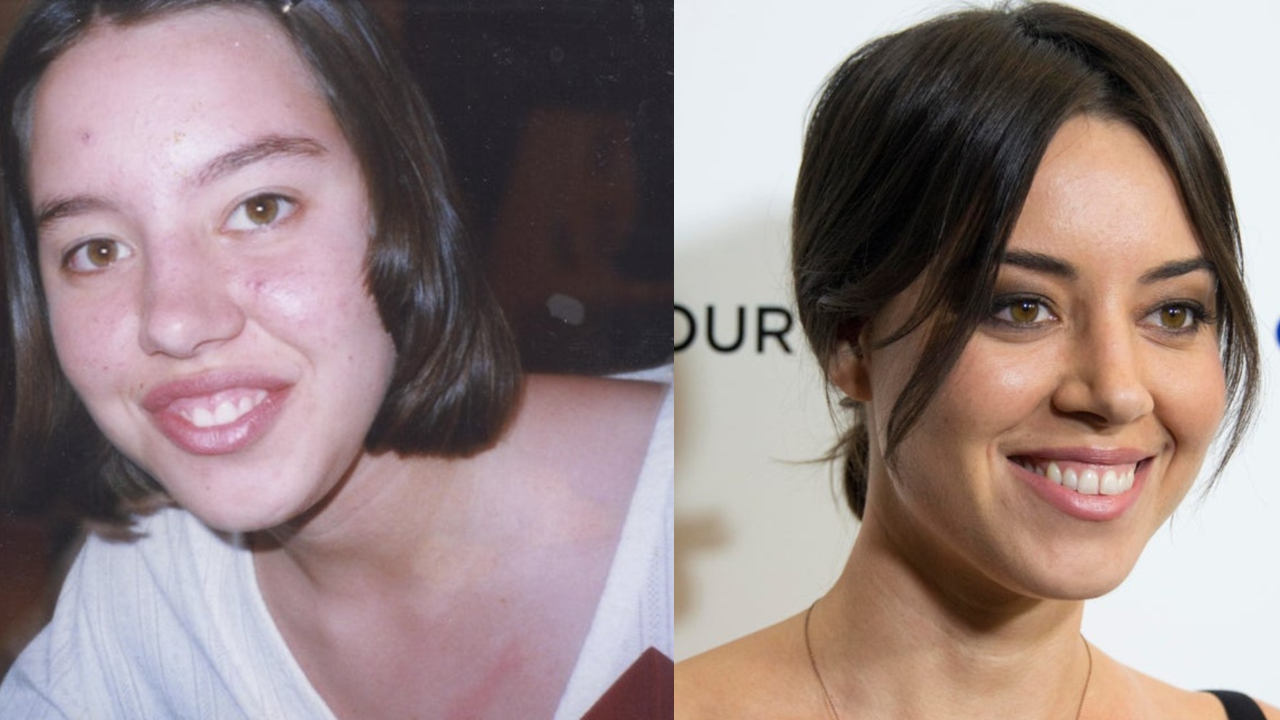 Aubrey Plaza before and after alleged plastic surgery.
Source: Weight & Skin
Aubrey Plaza is usually a subject of plastic surgery amongst fans on the internet. One such viewer took to Reddit (r/PlasticSurgery) where he asked,
What work do u guys think Aubrey plaza has had if any? How would u describe her features
In the comments section, a person contrasted her current appearance with how she looked during her younger years.
Judging from this random photo of her as a kid, it doesn't look like she's had anything done at all. Same eyes, teeth, chin.

Her nose is the only thing that looks different but I don't know if the more bulbous look in her childhood is because she actually had it done later or if it just grew into a more defined tip. It could even just be the terrible lighting in the older one.
While a nose job is debatable, some seem pretty confident Plaza had Botox at the very least.
Definitely Botox, there's nary a wisp of a crease around her eyes or forehead. She looks amazing.
The second claimed,
Either she's natty or she had expert ultra expensive work done. She's had Botox though, ain't no way a comic can have no lines whatsoever.
The third preferred to stay on the fence.
doesn´t look like she had any, though her smile looks often different, sometimes gummy, sometimes not, could be Botox (or previously braces) could be something else.
To get a wider perspective of viewers, The Celebrity Post conducted a poll where they asked their so-called "experts" on whether Aubrey Plaza has gone under the knife.
They wrote,
Is the 36-year-old actress' beauty all natural? Or has Aubrey Plaza (Parks and Recreation, Legion) had a little help? Fans were asking the question after new photos surfaced of Aubrey on Tuesday (December 1) looking a bit different.
62% of voters reckoned the actress hasn't performed plastic surgery to alter her looks.
It's fair to say most of Aubrey Plaza's appearance is completely natural. The only form of cosmetic enhancement appears to be Botox injections which is the most common plastic surgery in the entertainment industry.
Botox is primarily known for the potential to decrease the presence of facial wrinkles.
You Might Like: Melissa Joan Hart's Plastic Surgery is Trending But is It True?
In addition, the injections are used to cure conditions such as neck spasms (cervical dystonia), heavy sweating (hyperhidrosis), hyperactive bladder, and Amblyopia. Botox injections can also help eliminate persistent migraine headaches.
Aubrey Plaza Reacts to One of Her Old Tweets Declaring Love for Her Famous Co-star
Everyone seems to be buzzing about Hulu's new lesbian Christmas romantic-comedy, and who could blame them! Like taking a drink from a hot cup of chocolate, it's a beautiful heart-warming movie that's guaranteed to make you feel good.
Prior to the movie premiere, Pride conducted a virtual interview with stars including Kristen Stewart (Abby), Mackenzie Davis (Harper), Dan Levy (John), Aubrey Plaza (Riley), Alison Brie (Sloane), Mary Steenburgen (Tipper), and Mary Holland (Jane).
They addressed the project, lady crushes, hilarious memes, and the impact a meaningful LGBTQ+ rom-com can have on audiences.
Also See: Goldie Hawn's Multiple Plastic Surgery Procedures is Puzzling Her Fans!
With the two platonically getting all over each other in one of the scenes from Happiest Season, fans dug a 2013 tweet in which star Aubrey Plaza proclaimed her love for Kristen Stewart.
https://twitter.com/evilhag/status/308282598348705792
And while there's a possibility their characters fail to be together, this hasn't fazed fans from shipping Abby and Riley. So, did Plaza weave her magic to make this film happen? The publication took a straightforward stance and inquired about it.
Plaza started off,
Oh, my god! Why did I say this?
The 36-year-old reflected,
There was a time in my life that it would get late, I'd turn the all caps on and I would just go for it. I don't know what state of mind I was in when I wrote that but I must've seen her in some movie and been obsessed with her.
The actress smiled as she said,
Look, I'm not ashamed to say I've always had a thing for her. Now it's on-screen forever.
Meanwhile, Stewart laughed at the disclosure.
Can you please read me that tweet?
She then tried to recall the reason Plaza might've tweeted that so long ago.
Me and Aubrey met one time years ago… I always really liked her too, you know. The feeling's mutual.
Happiest Season is currently streaming on Hulu.
Also Read: Complete Breakdown of Sarah Taber's Plastic Surgery Procedures
Visit Weight & Skin for more plastic surgery stories of your favorite celebs.