Rakim Mayers, recognized as A$AP Rocky, is among well-established performers in the music industry. ASAP Rocky is renowned for his inventive approach to music, stylish flair, recreational drug use, and tumultuous love life.
Shortly after releasing his chart-topping albums Long. Live. A$AP and At. Long. Last. A$AP, the American rapper quickly made his mark in the music industry.
Artists in the rap industry are often perceived of getting tattoos only for the 'feel' or articulating their talent and art. A$AP is no exception as he's got notable tattoos on his back, symbolizing specific stuff he believes in.
ASAP Rocky Tattoos – How Many Tattoos Does The Rapper Have?
ASAP Rocky is A$AP Mob's most famous leader and has always been at the forefront because of his distinctive music style, his excellent sense of fashion (which helped him achieve high profile celebrity collaborations).
As per the Body Art Guru, the singer has nine separate tattoos overall.
Cross Tattoo
ASAP Rocky Cross Tattoo.
Source: Body Art Guru
Around his right knee is a 'Cross' mark, which reflects the values in faith and religion. It relates to Jesus' crucifixion and his belief in him. The singer, along with Asap Ferg, YG and Tyga, has produced a single 'On God' sharing his faith and confidence in the almighty.
Vlone Tattoo
ASAP Rocky Vlone Tattoo.
Source: Body Art Guru
The rapper has tatted 'V' below his left ear. 'VLONE' is a streetwear apparel company created in 2011 by fellow A$AP Mob founder ASAP K. ASAP Rocky also belongs to A$AP Gang.
Rocky displays overwhelming affection and love towards his gang, and the tattoo is yet another means of expressing gratitude.
Anarchy Symbol Tattoo
ASAP Rocky Symbol Tattoo.
Source: Body Art Guru
On his left thigh, there's an Anarchy symbol tattoo. Anarchy refers to a community of individuals who oppose authority without any ruling structures. The rapper's merchandise even includes a sign of rebellion.
ANARCHY Tattoo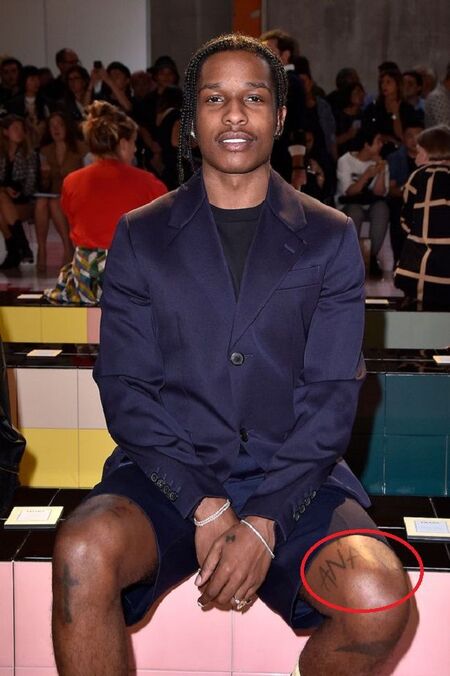 ASAP Rocky ANARCHY Tattoo.
Source: Body Art Guru
The singer has another tattoo of 'ANARCHY' above his left knee.
During an interview with Vice, ASAP said, "I'm an anarchist man, I'm all about the people who don't give a fuck about colors and all of that dumb shit. You know it sounds good, especially me in my position saying it, but even if I were poor, I would still be saying it."
'If Not Now Then When' Tattoo
ASAP Rocky 'If Not Now Then When' Tattoo.
Source: Body Art Guru
The singer's got a 'If Not Now Then When' tattoo on his right thigh. Generally speaking, "If Not Now Then When" is used as a motivating quote that urges a person to take decisive action on any mission or job they know would eventually have to finish or take steps on at some particular time.
Stomach Tattoo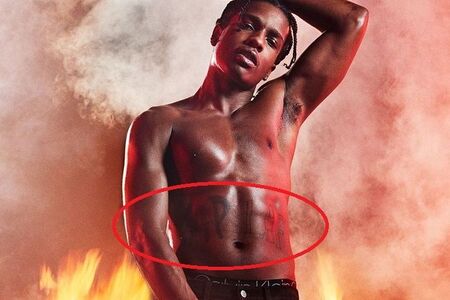 ASAP Rocky Stomach Tattoo.
Source: Body Art Guru
The rapper's got a 'ASAP life' tattoo across his stomach area. A$AP Mob is a group of American hip hop artists, founded in 2006. While ASAP Rocky was not one of the group's founding members, the rapper is one of the ASAP Mob's most revered leaders.
'Dare' Tattoo
ASAP Rocky 'Dare' Tattoo.
Source: Body Art Guru
The term 'Dare' is tattooed just above the right knee of Rocky, which lies just under the 'If Not Now Then When' tattoo. Generally speaking, daring means having the courage to do any challenging task. Rocky is known to carry defiant ideas, and daring is just something that fits his persona.
Pirate Tattoo
ASAP Rocky Pirate Tattoo.
Source: Body Art Guru
The 31-year-old rapper boasts a Pirate tattoo directly beneath his left knee. Pirates are considered to be tough guys by nature; the tattoo can also be used to symbolize the unwavering attitude of the person. The symbol may also mean bravery and resoluteness.
Unidentified Tattoo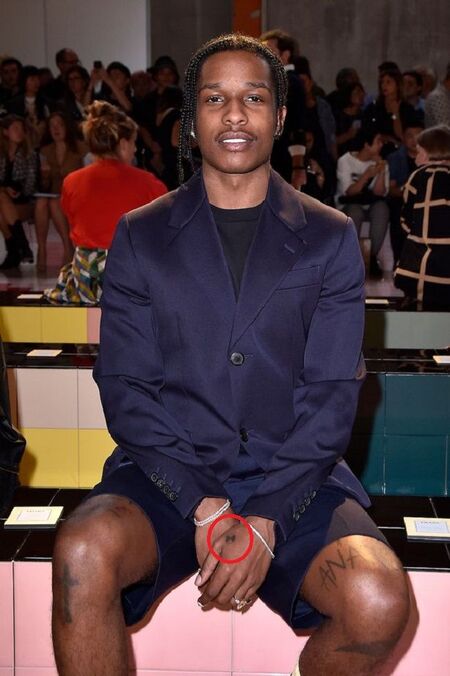 ASAP Rocky's unidentified hand tattoo.
Source: Body Art Guru
The rapper's got an unidentified tattoo on his left hand.
ASAP Rocky Hand Tattoo
Back in 2011, ASAP Rocky released his mixtape titled 'Live. Love. A$AP'.
The music of the mixtape combines stylistic and design features from hip hop cultures, which are different from ASAP Rocky's hometown New York culture, primarily Southern hip hop. 'Live. Love. A$AP 'was later named in the BET awards for the best mixtape.
The rapper's ex-girlfriend Iggy Azalea got the tattoos to honor him for his album 'Live. Love. A$AP.'
Rocky's former girlfriend Iggy Azalea got tattoos to honor him for the album 'Live. Love. A$AP.'
Source: Pinterest
For the album's promotion, the ex-girlfriend of the rapper, Aussie singer Iggy Azalea had a tattoo revealing "Live. Love. A$AP" on her fingers.
Rapstress announced in an interview back in 2012 that Iggy and A$AP brought their romance to the next stage, and had matching tattoos.
The Australian singer had a high-profile relationship with A$AP Rocky, so she decided to uphold her dedication by tattooing her fingers with "Live" "Love" and "A$AP".
ASAP Rocky with his ex-girlfriend Iggy Azalea.
Source: Flickr
Azaela is currently engaged with NBA star Nick Young and began the tattoo-removal phase back in 2014. While her representatives are yet to verify if the tattoos have been extracted entirely, the recent images lead many viewers to assume they are actually gone.
Visit Weight & Skin for more tattoo details of your favorite stars.