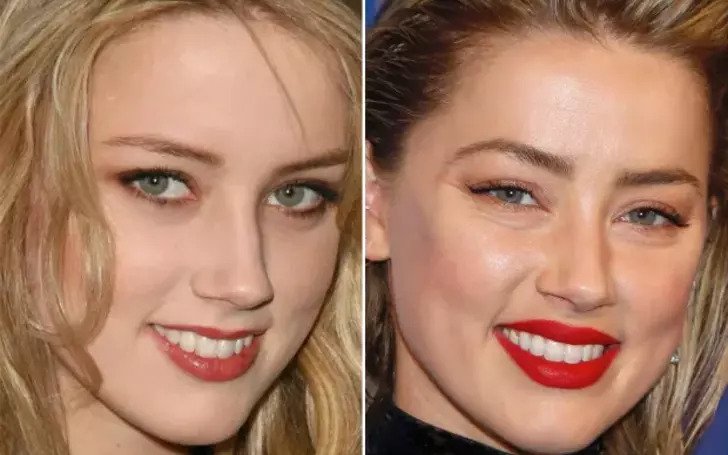 Check out the complete breakdown of Amber Heard's plastic surgery procedures.
The beautiful American actress, Amber Heard, who was reported to boast the most flawless face on the planet, is believed to have undergone plastic surgery procedures.
Heard, meanwhile, never admitted to going under the knife in any part of her body. So, what's the actual truth? Let's find out.
Did Amber Heard Undergo Plastic Surgery?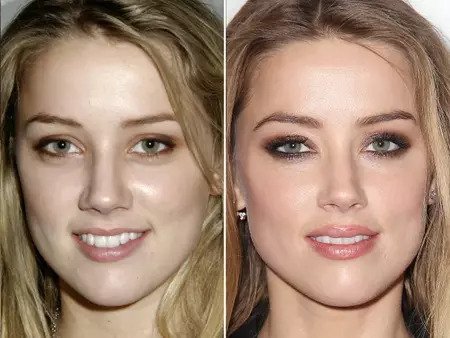 Amber Heard before and after alleged plastic surgery.
Source: Pinterest
Amber Heard owns the most perfect face across the globe. At least that's what Dr. Julian De Silva, a cosmetic surgeon based in London, inferred as he examined the 33-year-old's facial traits using digital mapping technology.
The Phi ratio of 1.618 has long been thought to hold the secret for beauty.
Since examining Amber and other celebrities through 12 critical parameters for the nose, lips, eyes, forehead, chin, and facial proportion and structure, he noticed Amber was similar to ancient Greek's perception of physical perfection.
[She] has the most beautiful face in the world, scoring a high 91.85 percent.
Of course, a cosmetic surgeon would understand better than anybody that the so-called "perfect" facial dimensions can be attained by undergoing plastic surgery.
Interestingly though, Dr. De Silva's algorithm managed to score a 91.39% for Kim Kardashian, and we all know there's barely anything natural about her!
You Might Like: Details of YouTuber Teala Dunn's Breast Augmentation Plastic Surgery
Coming back to Amber Heard's supposed plastic surgery, we examined several photos of her through the years and arrived at a particular conclusion.
It's natural to assume Amber went under the knife and made specific tweaks to score so highly with Dr. De Silva's algorithm.
Inevitably, we were thinking about a nose job — just like most celebrities these days. Looking at her red carpet images, we still suspect the operation. But this is one of the toughest cases to be absolutely sure.
With her head turned to the side, there's no noticeable change in her appearance over the years, with the exception of probably a less-projected edge.
Whenever she's looking at the camera, you can tell she would have had some cautious sculpting to reduce her nostrils for a more button-like point.
Meanwhile, one thing we're sure of — Amber made major improvements to her lips and teeth. There's no doubt she's been contemplating lip fillers over the past few years to improve the thickness of her upper lip.
Also See: Reality Star Christina Anstead Had Multiple Plastic Surgery Operations – Learn Them All!
What made the most significant difference was dealing with her jutting teeth, perhaps with stuff like Invisalign's transparent braces.
Today, when she smiles, her teeth no longer cover her lower lip. She now has a much whiter, more balanced expression, possibly thanks to a mixture of whitening teeth and porcelain veneers.
When we speak of plastic surgery, we generally don't pay much attention to cosmetic dentistry, but Amber Heard's before and after images show how revolutionary it can be.
Amber Heard was Criticized for Showing Nipples at a Mosque
Amber Heard is receiving fresh criticism for sharing pictures of herself attending Turkish mosques and, seemingly for others, not dressed well enough.
The ex-wife of "Pirates of the Caribbean" star Johnny Depp is presently in Istanbul, where this weekend's Instagram upload was completed with stories.
Amber, who previously took the spotlight for her high-profile appearance in London as the 57-year-old Depp faced his $1 million libel court case, now sees herself back into the limelight, and she's being hammered.
Also Read: American Actress Leslie Bibb's Plastic Surgery is Trending But Is It True?
In the caption, Amber addressed her millions of followers, and wrote, "Spent the day wandering around the magic of Istanbul's mosques and couldn't be more in love with this gorgeous city …"
The actress then shared stories revealing a bit more of the dress, including a visit to the spice market. Since the pictures surfaced, the images have already been a subject of criticism, with several Twitter users bashing Heard for a slightly noticeable nipple.
One tweet read:
Amber Heard really did enter a Mosque in Istanbul with her nipples on show, didn't she? The disrespect!
Fans could well claim Amber was completely well-covered, but most users were having none of it. Heard is also subject to relentless trolls in the context of accusations that she was physically aggressive towards Hollywood icon Depp.
A user wrote:
Amber Heard doesn't know the meaning of respect. The fact she deleted the original Istanbul Mosque photo only to post two! Ignorance really is bliss when you turn off your comment section.
The second lashed out, writing:
Amber Heard, the activist and humanitarian that cares more about showing her nipples in an Instagram photo than dress in a respectful manner for the occasion. I'm sorry Istanbul you have to deal with her.